Granite Kitchen Worktops
Granite kitchen worktops are a popular choice for homeowners because of their natural beauty, unique designs and durable nature. Used for centuries, this luxurious stone surface can elevate the look of any kitchen, whilst its durable, hardy nature makes it a great choice for long term use. Whether you are renovating your existing kitchen or building a new one, granite is a material that is sure to impress! Here, Royal Marble bring you the full qualities of granite, with everything you need to know to help you make the right worktop choice.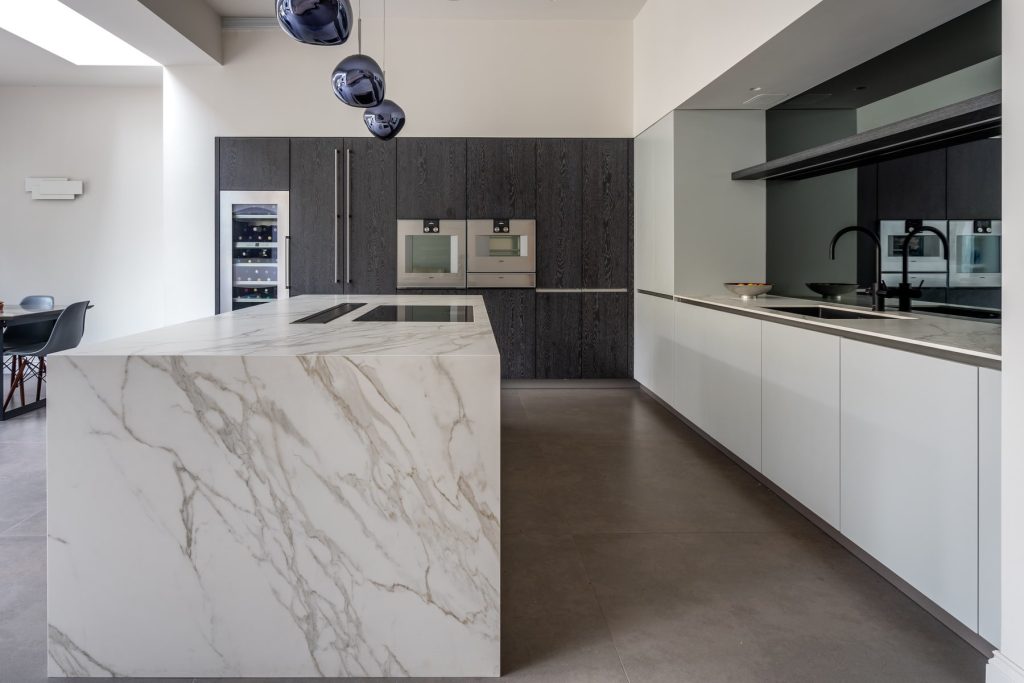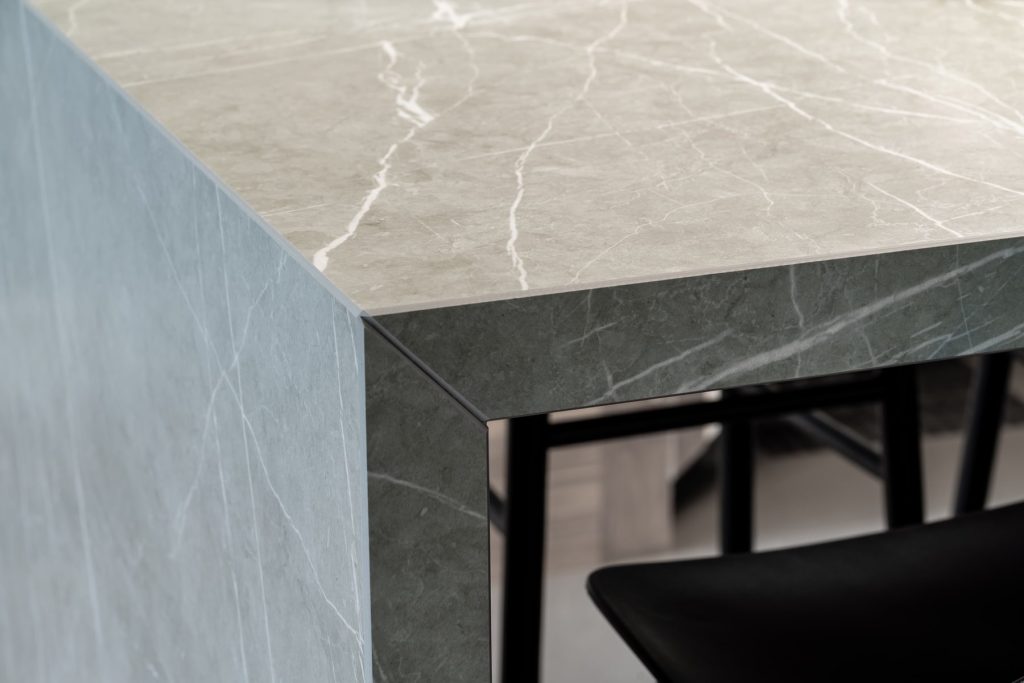 What are Granite Kitchen Worktops?
Granite is a natural stone extracted from the earth and consisting of different minerals. Mined from the quarries, the granite is then cut into large blocks using diamond-tipped saws; from here it can be reworked into smaller slabs that are prepared for use as kitchen worktops. Granite consists of mainly feldspars, quartz and micas, but can also contain other minerals as well. It is this mixture of minerals that creates granite's signature multi-coloured pattern. Due to granite worktops being made from 100% natural stone, each worktop has its own unique pattern, with natural variations in colour and texture which further add to its appeal.
Granite Kitchen Worktop benefits:
Granite Worktops Are Durable
Granite worktops are extremely popular, offering many benefits. One of the biggest advantages of granite kitchen worktops is their durability. As a hard and dense stone, granite is resistant to scratches and chips ensuring the granite's strong surface will last a long time without succumbing to everyday wear and tear. This makes it an ideal choice for high-traffic areas like kitchens, where it will see a lot of use.
Granite Worktops are Heat Resistant
Additionally, granite can withstand a great amount of heat, making it much more heat-resistant than an engineered stone such as quartz. Granite can withstand high-heat temperatures up to 248° C without burning or cracking and this makes it an ideal material for avid cooks in the kitchen, since you can place hot cookware on the surface without worrying about damaging it. However, with any worktop material it is best to take extra care and use trivets or cutting boards when using hot cookware.
Granite is Low Maintenance 
Kitchen worktops are hardworking areas, but often susceptible to spills and stains. Granite worktops are convenient in this respect as they are very easy to wipe clean. However, as granite is a porous stone, the worktop must be sealed during installation to ensure that no liquids will seep through and stain the surface. As long as it's properly sealed and periodically resealed then a granite kitchen worksurface is typically easy to maintain and keep looking pristine long after installation.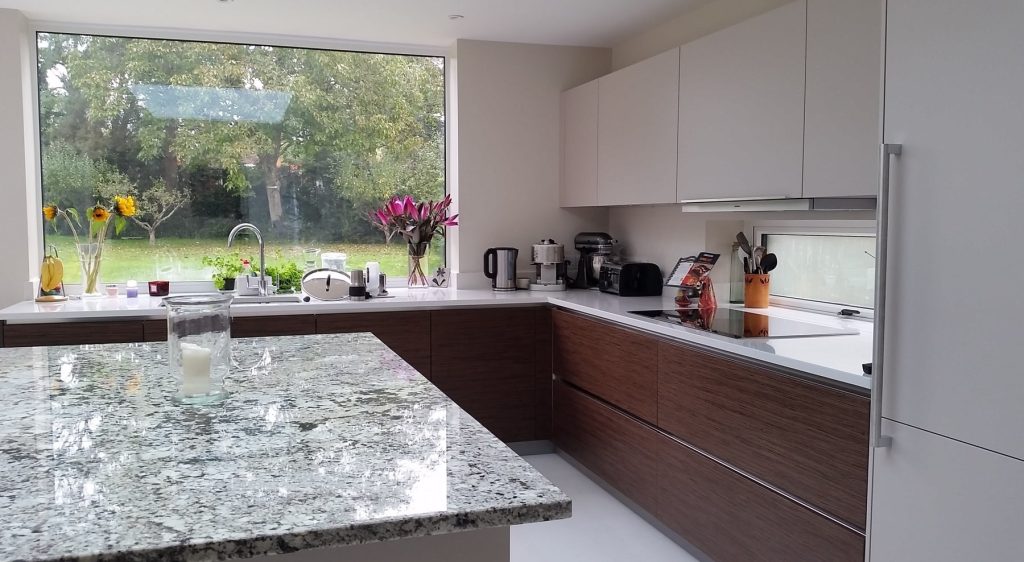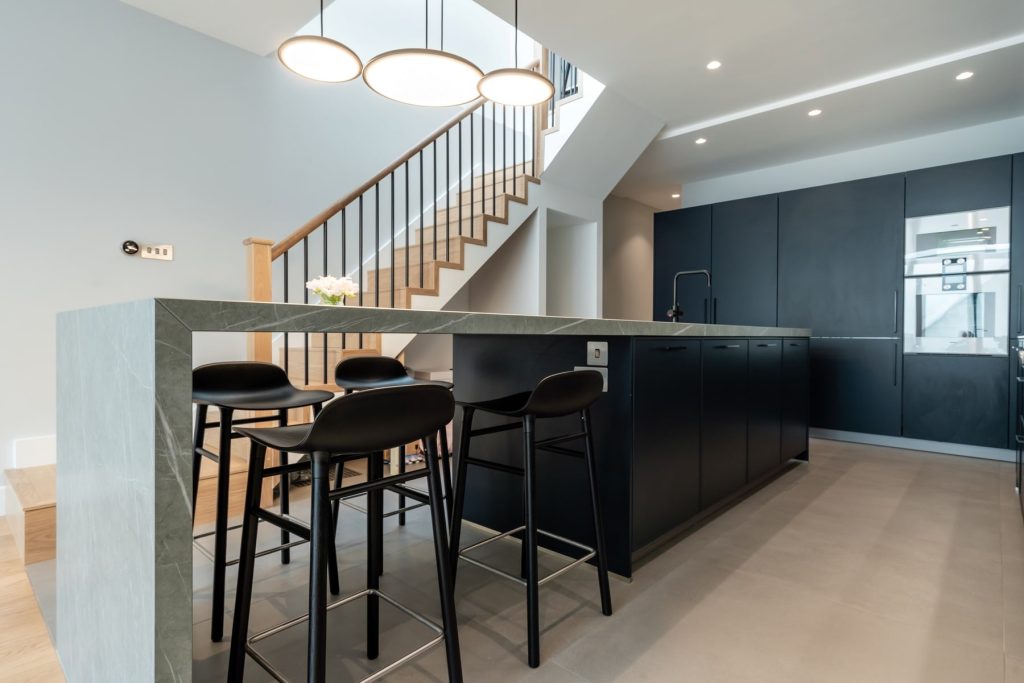 Granite Worktop Colours
Popular granite worktop colours include black, white, grey, and beige, and within each colour category, there are many different shades and variations. For example, black granite can range from a deep, almost-black colour tone to a lighter, charcoal-like shade. Some granites have a consistent colour and pattern throughout, some have a swirling pattern, others have a speckled or flecked pattern, and other granite styles portray a mix of colours and patterns. This variety ensures there is plenty of choice and plenty of scope for making a stand-out statement within your new kitchen design!
Polished Granite Worktops
Polished granite worktops are a type of kitchen worksurface finish effecting a smooth and glossy surface appearance. Polished granite is manufactured and finished using a series of diamond-tipped grinding wheels to smooth and shine the surface of the granite slab. This process removes any surface imperfections and draws attention to the natural colours and patterns of the granite.
The high-gloss finish of polished granite worktops is easy to clean and maintain, although they can be more prone to showing stains and fingerprints than honed granite worktops. They are a great choice for homeowners who want to add a touch of luxury and elegance to their kitchens. The glossy finish of polished granite worktops can make a kitchen look larger and more spacious, whilst drawing attention to the beauty of the granite.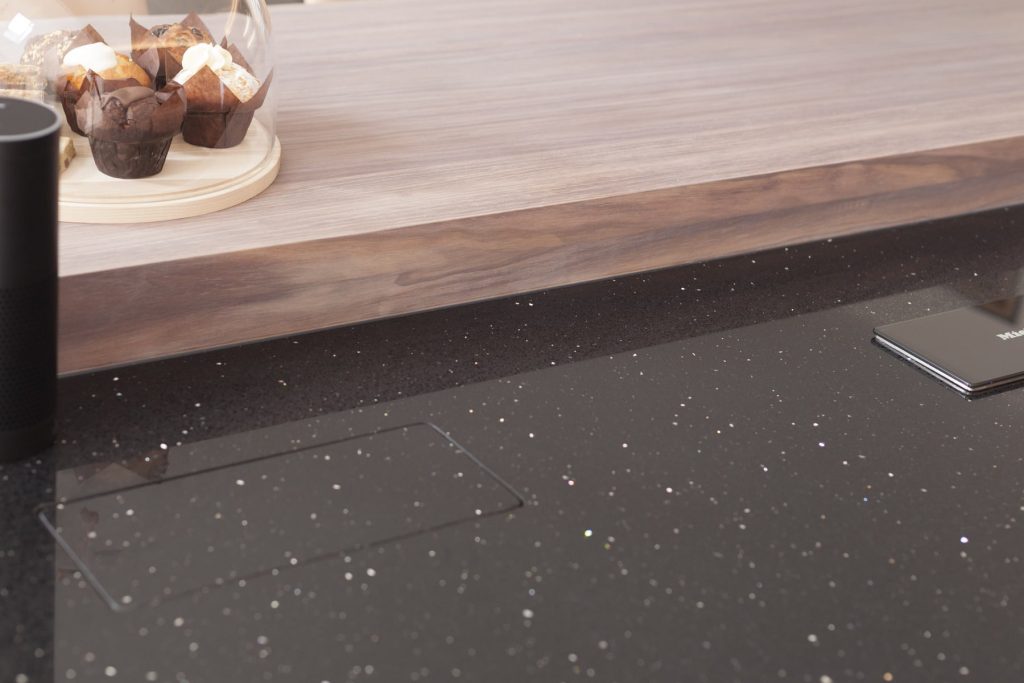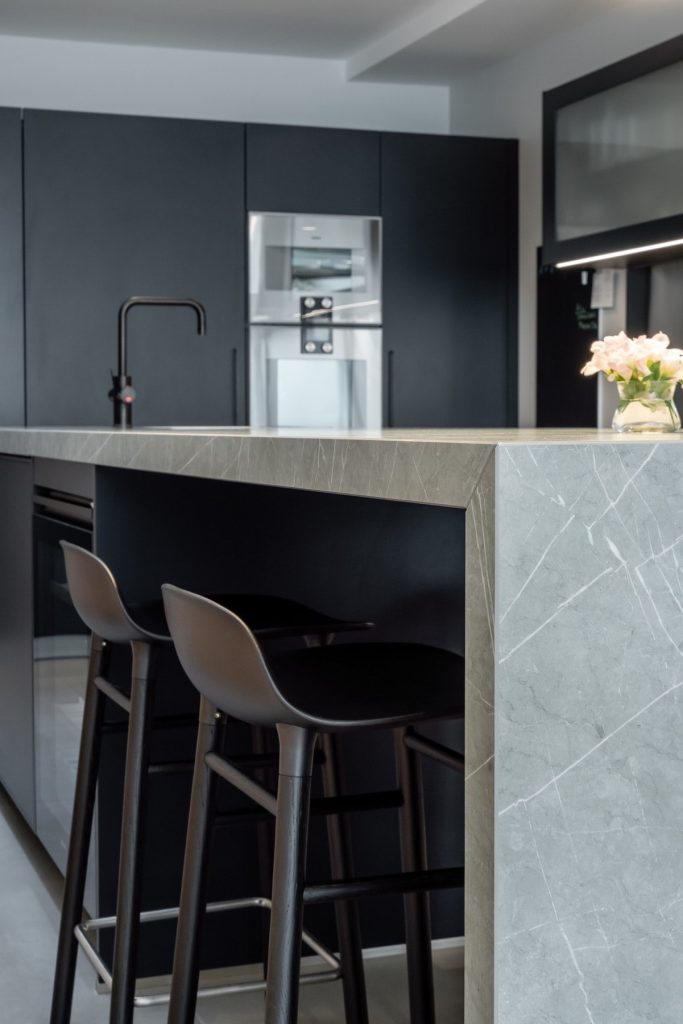 Honed Granite Worktops
Honed granite worktops are a type of kitchen work surface that have been ground and polished to create a smooth, matte surface. They are created by using a series of diamond-tipped grinding wheels that are less abrasive than those used to create polished granite worktops. This process removes any imperfections and brings out the natural colours and patterns of the granite, but without creating a glossy surface.
Honed granite worktops have a more subtle and subdued appearance than polished granite worktops and considered by some as a more elegant and modern look. The matte finish of honed granite worktops can elevate a kitchen aesthetic, whilst also making the natural patterns and colours of the granite stand out.
What are Overlay Granite Worktops?
Overlay granite worktops are achieved by laying a slab or piece of granite over an existing kitchen worksurfaces. This is sometimes done when worktops become chipped or have obvious wear and tear. Granite overlays are typically thinner than actual worktops but can do wonders in terms of refurbishing your kitchen worktops. The existing worksurface should ideally be smooth and sturdy, as any imperfections will be reflected in the thin overlay. Overlays are a great way to achieve that smooth granite kitchen aesthetic but without having to invest in expensive worktops!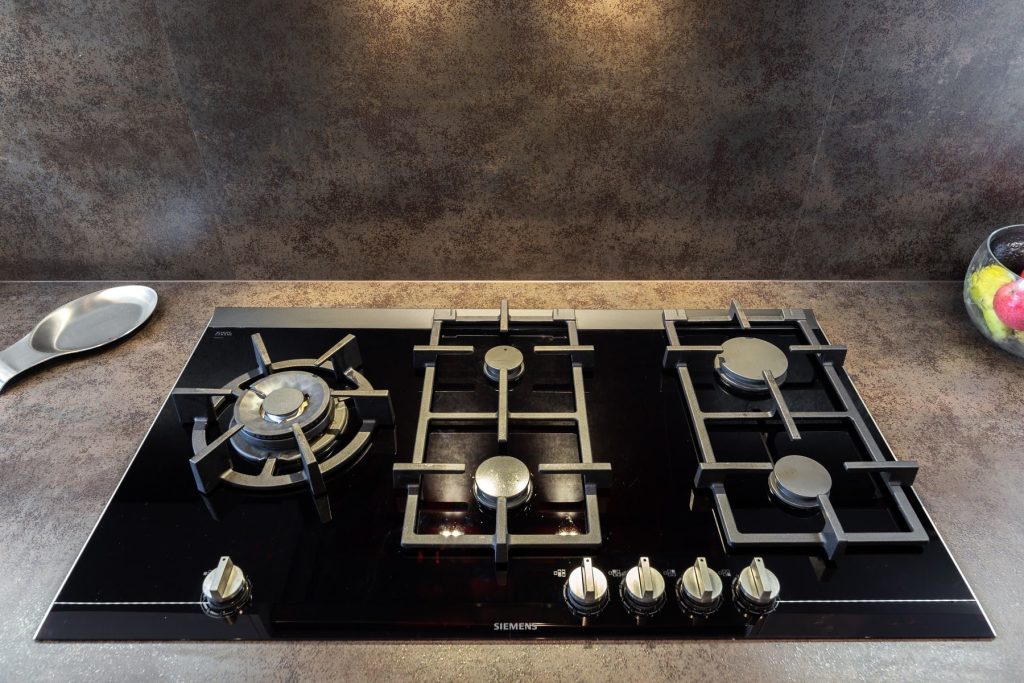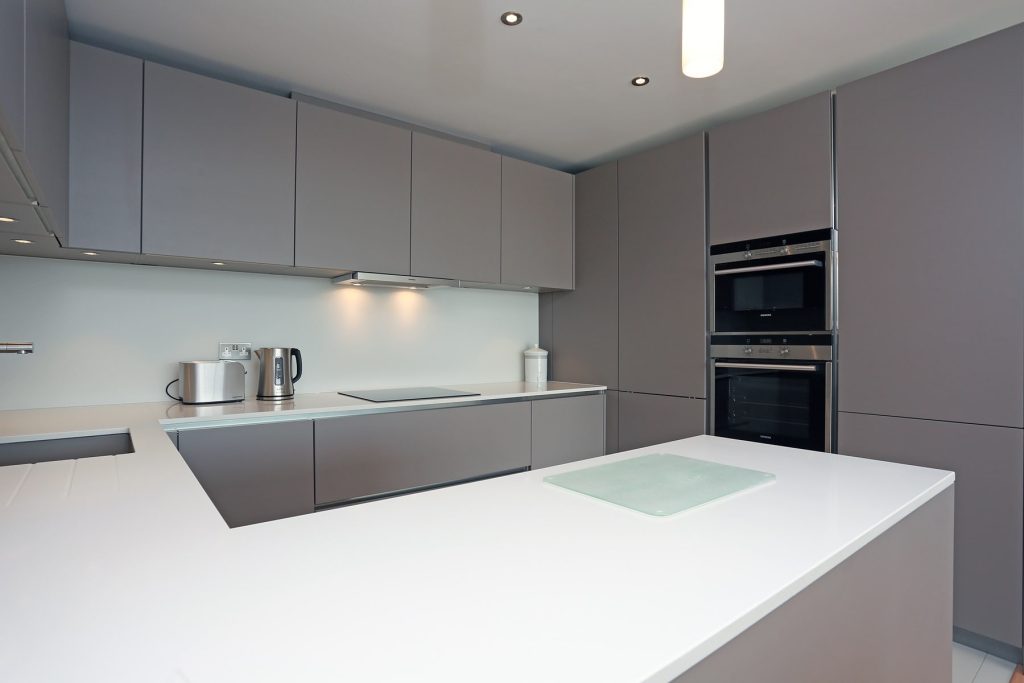 Cleaning granite worktops
A granite kitchen worktop is relatively easy to keep clean; a simple e-cloth or cloth damp with warm water and soap will most often do the trick! To prevent spills and liquids from staining the worktop, you should wipe them away as quickly as possible. Some liquids, particularly darker ones, can stain the surface if left too long or if your granite hasn't been sealed. Similarly, using cleaning agents that contain harsh chemicals is also inadvisable, since they could damage the granite by removing its sealant.
How Much Do Granite Worktops Cost?
As mentioned, granite kitchen worktops do have some disadvantages, with one of the biggest being their cost. When it comes to the different materials for worktops, it is among the most expensive. Granite is a premium material, and as such, for many homeowners it's simply not an option. The cost of granite worktops can vary depending on a variety of factors such as the type of granite. Some types of granite are more common and therefore less expensive, while others are rarer and more expensive. The thickness of the slab is also a factor in determining the cost. Thicker slabs are more expensive than thinner ones, as they require more material and are more difficult to fabricate. Finally, the complexity of the installation will also influence the cost. If the installation requires a lot of custom cutting and shaping, the cost will be higher. Again, this can add to the overall cost of the project, and on this basis many homeowners rule it out.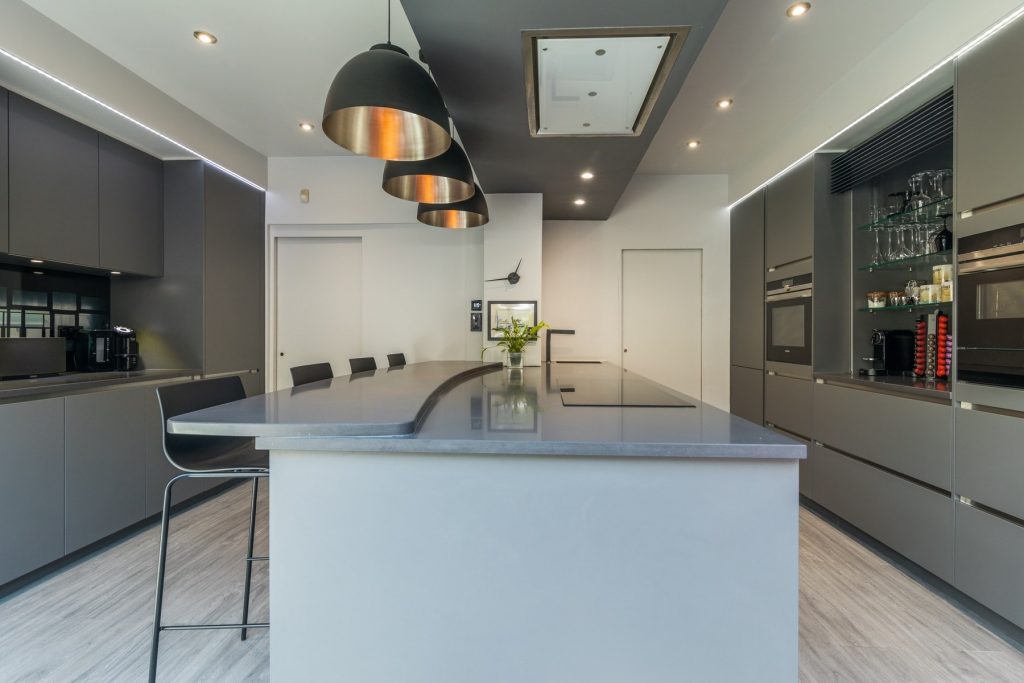 Alternatives to Granite Worktops
If you're looking to invest in a stone surface other than granite, there are several good alternatives to that can offer similar durability and aesthetic appeal. Options include marble, quartz, concrete or solid surfaces. Each of these can offer the resistant qualities along with the elegant look of granite worktops but are available at a lower price point. For example, Quartz worktops are engineered from a mixture of natural quartz and synthetic materials, making them durable, non-porous, and resistant to scratches and stains. Quartz is available in a wide range of colours and patterns and is often more consistent in pattern and colour than natural stone materials like granite.
Find your Perfect Granite Worktop
Overall, granite kitchen worktops are a great choice for homeowners looking for durability, natural beauty, and luxury in their kitchens. If you decide to invest in granite worktops, you won't be disappointed as a granite worktop provides a durable and reliable worksurface option that is sure to make your time in the kitchen worthwhile and catch the eye of all your guests! However, they do need proper care and maintenance to keep your granite in perfect, lasting condition!
If you would like to explore our range of granite worktops or talk to us about granite alternatives, please contact Royal Marble in Caerphilly today!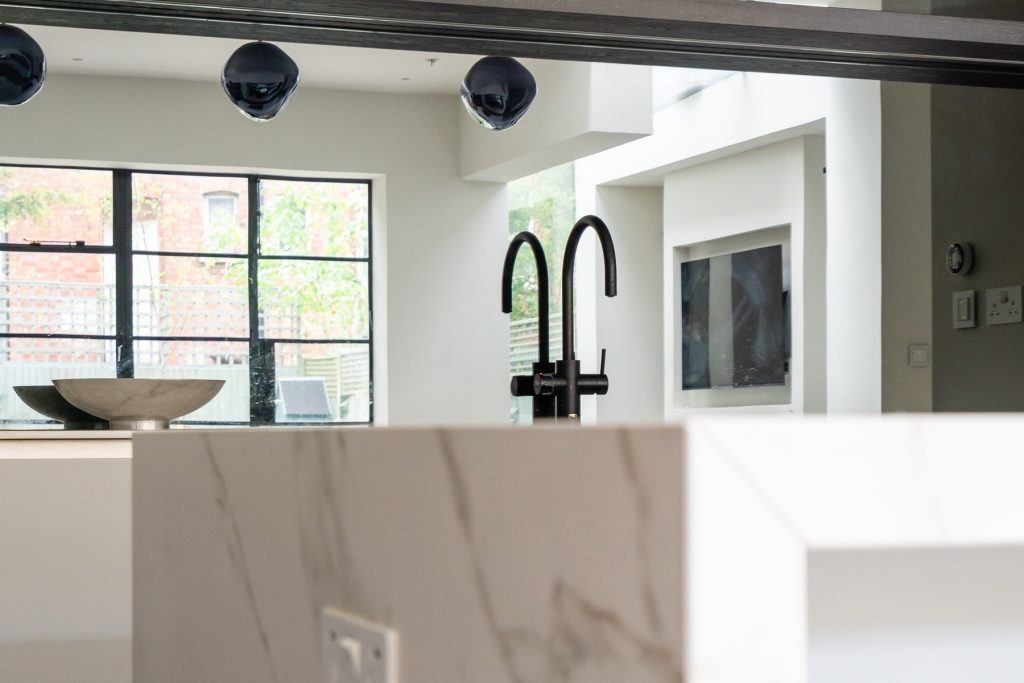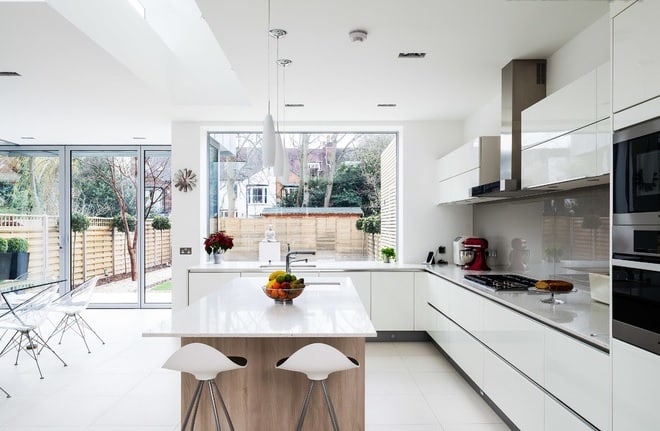 Book A Design Appointment