Sintered Stone Kitchen and Bathroom Worktops
Welcome to Royal Marble, specialists in Sintered Stone kitchen and bathroom worktops, where elegance meets durability in perfect harmony. Our collection of bespoke stone worksurfaces showcases an exquisite blend of cutting-edge technology and refined craftsmanship, resulting in surfaces that embody sophistication and functionality. From the heart of your home to the sanctum of relaxation, our stunning Sintered Stone worktops are meticulously designed to emulate the beauty of natural stone and elevate your living spaces to new heights. Discover the enduring appeal of our Sintered Stone worktop choices in person at our luxury Oldbury worktop showroom, and transform your kitchen and bathroom into a testament of elegance and practicality.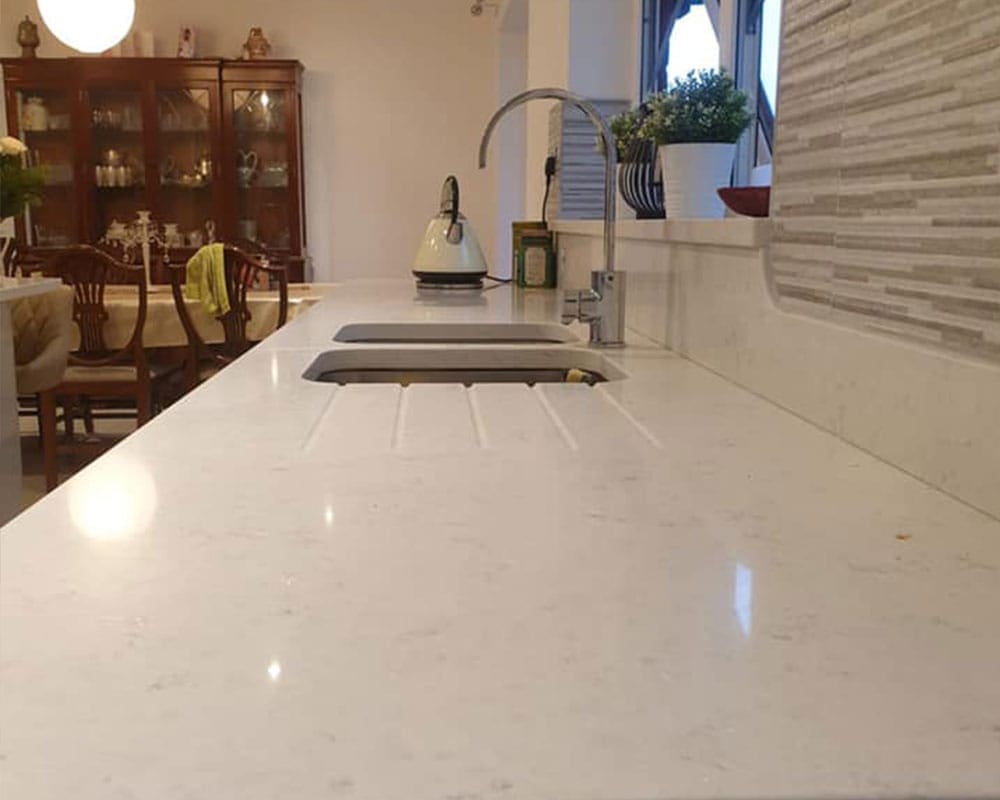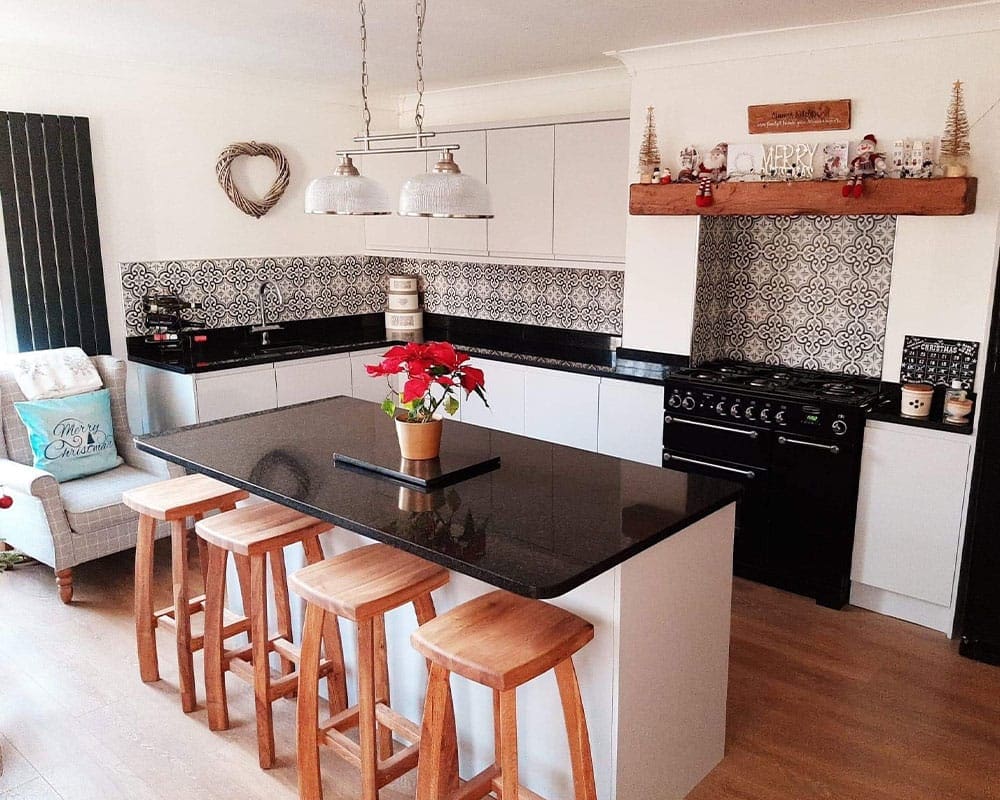 What is Sintered Stone?
Sintered stone is a type of engineered stone that's made by combining natural stone particles with resin binders under high pressure and heat, resulting in a beautiful solid surface material. It is a popular choice for worktops in high-traffic areas such as kitchens and bathrooms due to its long-lasting durability and low maintenance. Sintered stone is also easy to clean and maintain, with only occasional sealing required to keep it looking beautiful and new. Highly versatile, sintered stone can easily be adapted to suit your specific kitchen preferences. It's also made from natural stone particles and produced with minimal waste, making it very environmentally friendly.
How Sintered Stone is Made
The manufacturing process for sintered stone consists of a complex and multi-step process called Sintering, which replicates the natural formation process of stone over millennia but condensed into a much shorter timeframe. This process starts with the selection of raw materials, most often a mixture of natural minerals such as feldspar, quartz and clay. There's also usually a small amount of pigments, which is used to give the material its colour.
The next step in the process involves crushing and grinding the raw materials into a fine powder, which is then mixed with water to form a slurry. The slurry is then poured into large moulds and pressed to create the desired shape and thickness. This part of the process is known as "batching."
Once the slabs are formed, they're placed in kilns and heated at extremely high temperatures of around 1300-1400 °C. The heat causes the slabs to fuse together and become solid. This is known as "sintering" – hence the name sintered stone. The sintering process typically takes about a day before it's complete.
After sintering, the slabs are cooled and then cut into the desired size and shape. The finished pieces are polished to achieve that beautiful smooth and finish, and any texture or pattern is then added to the surface of the slab to complete the look.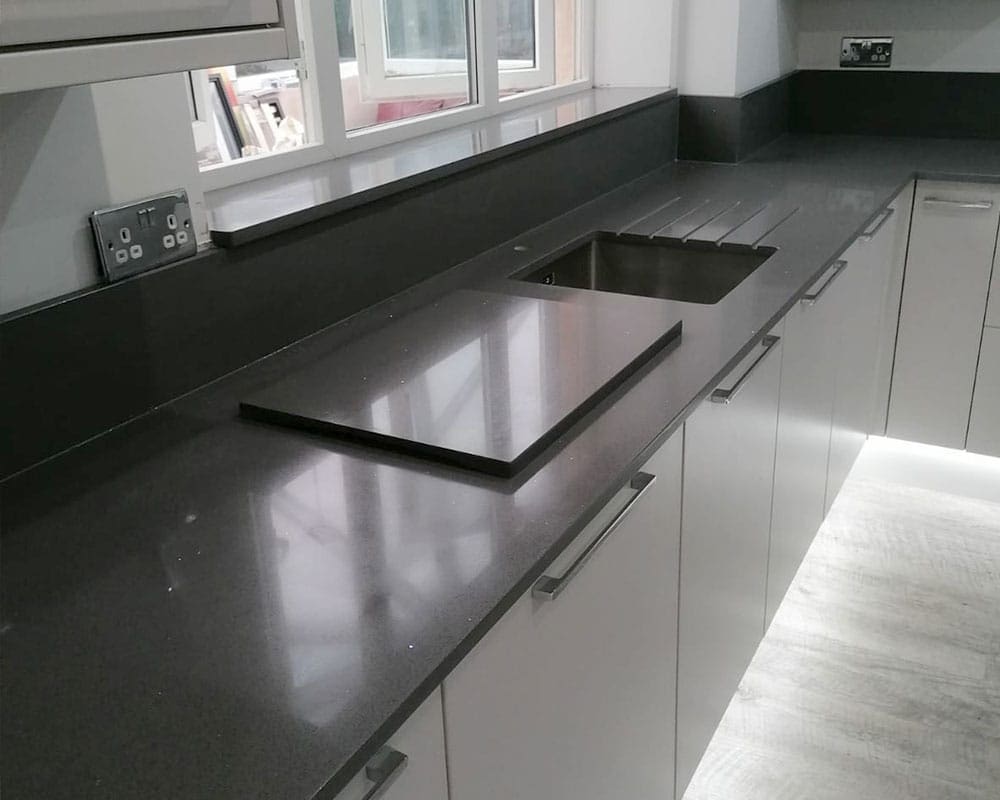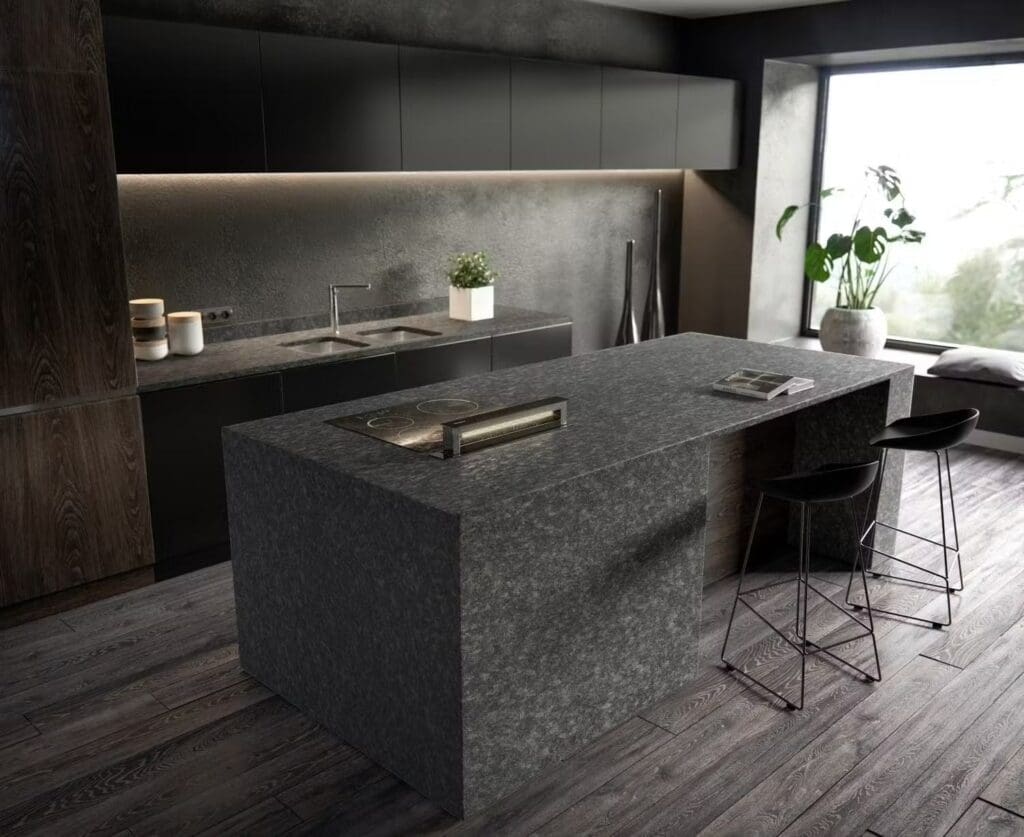 The Aesthetics of Sintered Stone
Ideal for kitchen and bathroom worktops, sintered stone boasts an array of impressive properties, and this includes its versatility. Sintered stone's long-lasting qualities make it an ideal material for a wide range of uses, from worktops and flooring to wall cladding. This stone comes in a wide range of colours and patterns, and it can be cut and shaped to fit any space, enhancing a variety of different design styles while providing a practical solution for modern living spaces. It's also conveniently available in large slabs, which means there will be less seams on your kitchen work surfaces, creating an elegant overall kitchen look.
The Durability and Low-Maintenance of Sintered Stone
Sintered stone is manufactured in a way that produces an incredibly durable final product. A sintered stone worktop is highly dense and non-porous, which is why it's so resistant to everyday wear and tear. The material is highly resistant to heat, acid and UV rays, making it suitable for both indoor and outdoor kitchen designs, and it's also very easy to maintain.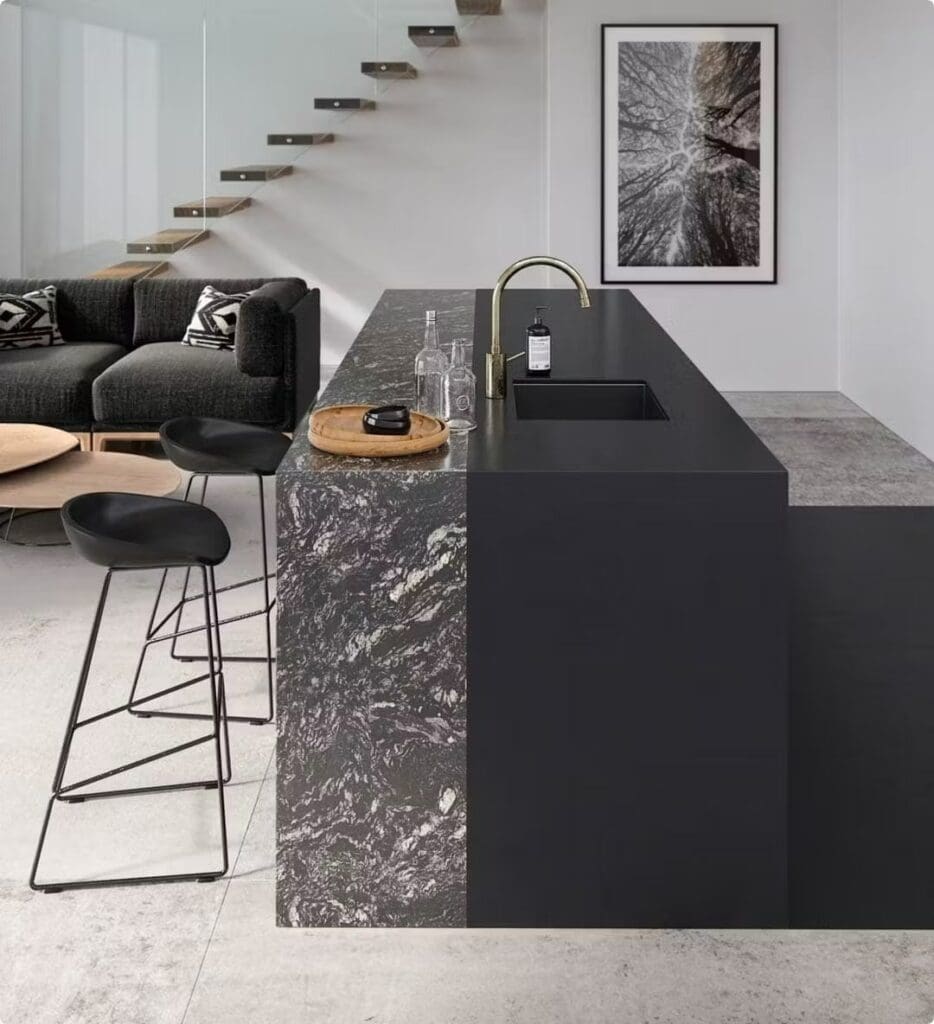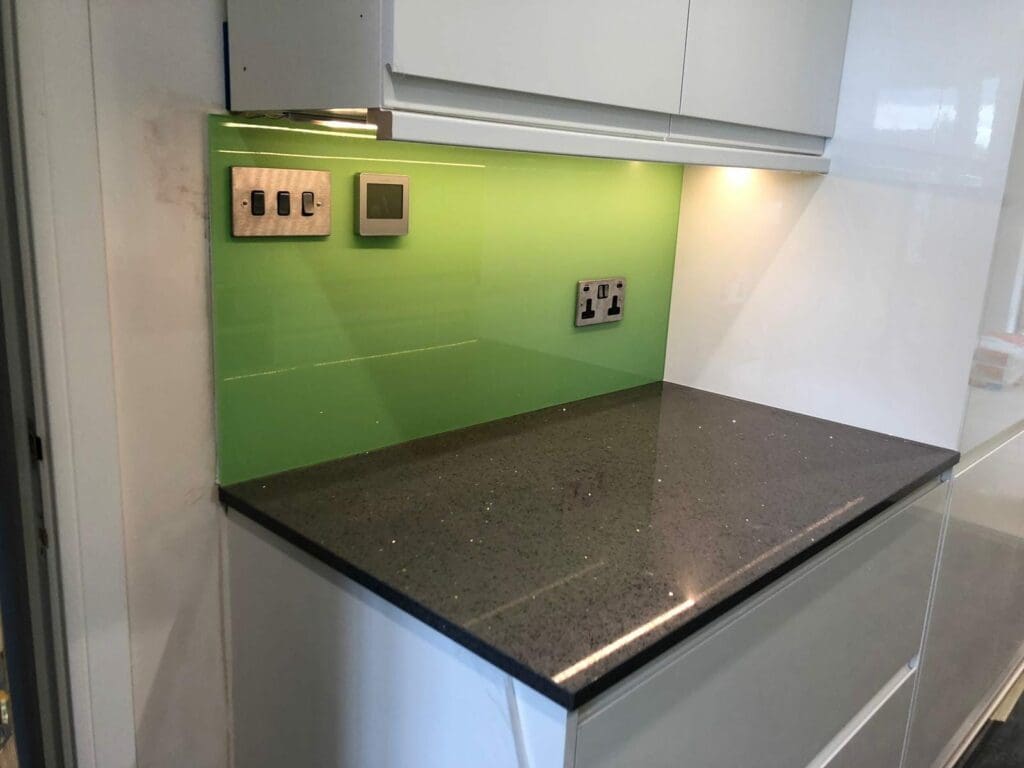 Sintered Stone Versus Other Work Surface Materials
If you're wondering how sintered stone holds up in comparison to other popular worktop materials, then generally, you'll be hard pressed to find a material as durable as sintered stone – its incredible longevity makes it stand out above the rest. When compared to natural stone like granite or marble, sintered stone has the advantage of being less porous, which means that it's also more stain-resistant and easier to clean.
Sintered stone is additionally less expensive than some of the more exotic natural stone options. However, it can often be more expensive than other engineered stones such as quartz. Sintered stone ultimately offers a more authentic look and feel of natural stone. It can last for decades if it's cared for and maintained properly, making it a worthwhile investment.
The Eco-Friendliness of Sintered Stone Worktops
A massive benefit of sintered stone is its eco-friendly qualities that can help you reduce your carbon footprint. One way it does this is through its durability and low maintenance requirements. Because sintered stone is such a long-lasting material, it naturally doesn't need to be replaced as frequently as other materials. This equates to less waste and fewer resources being used in the production and transportation of new materials.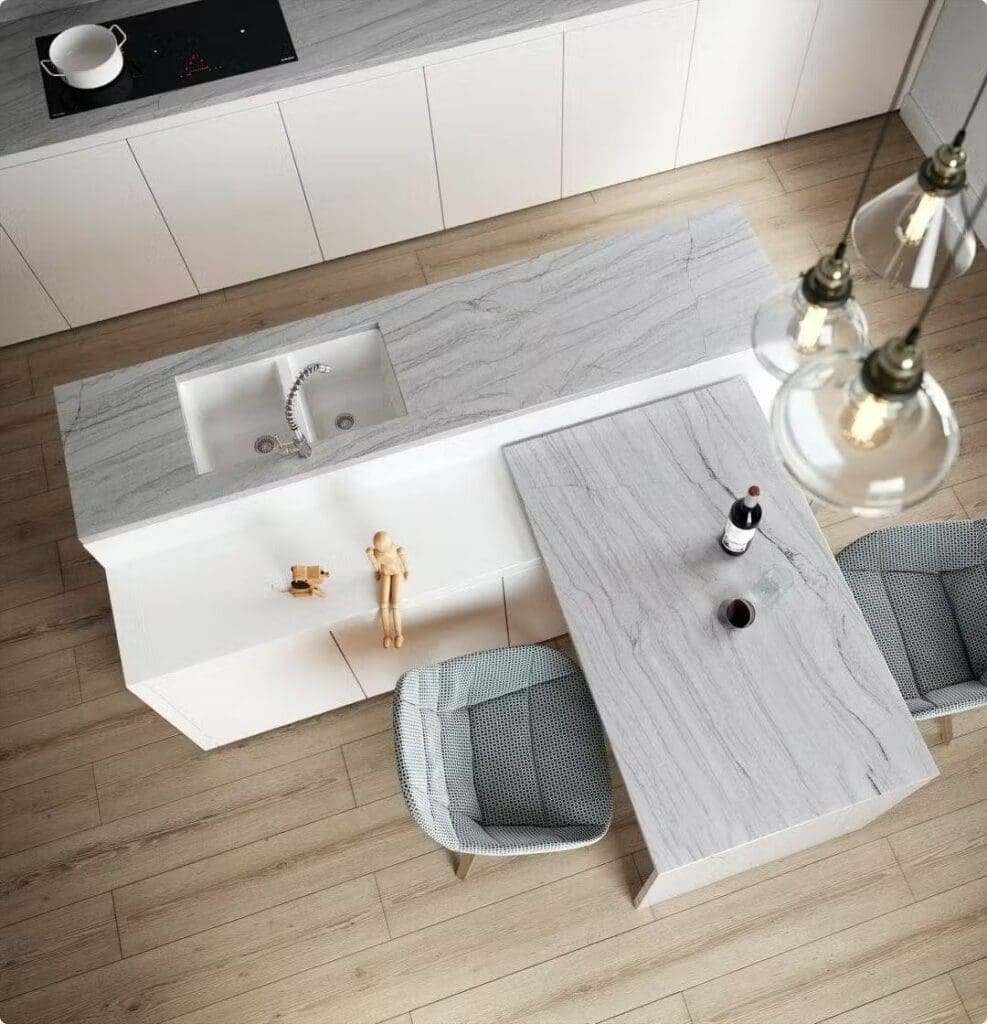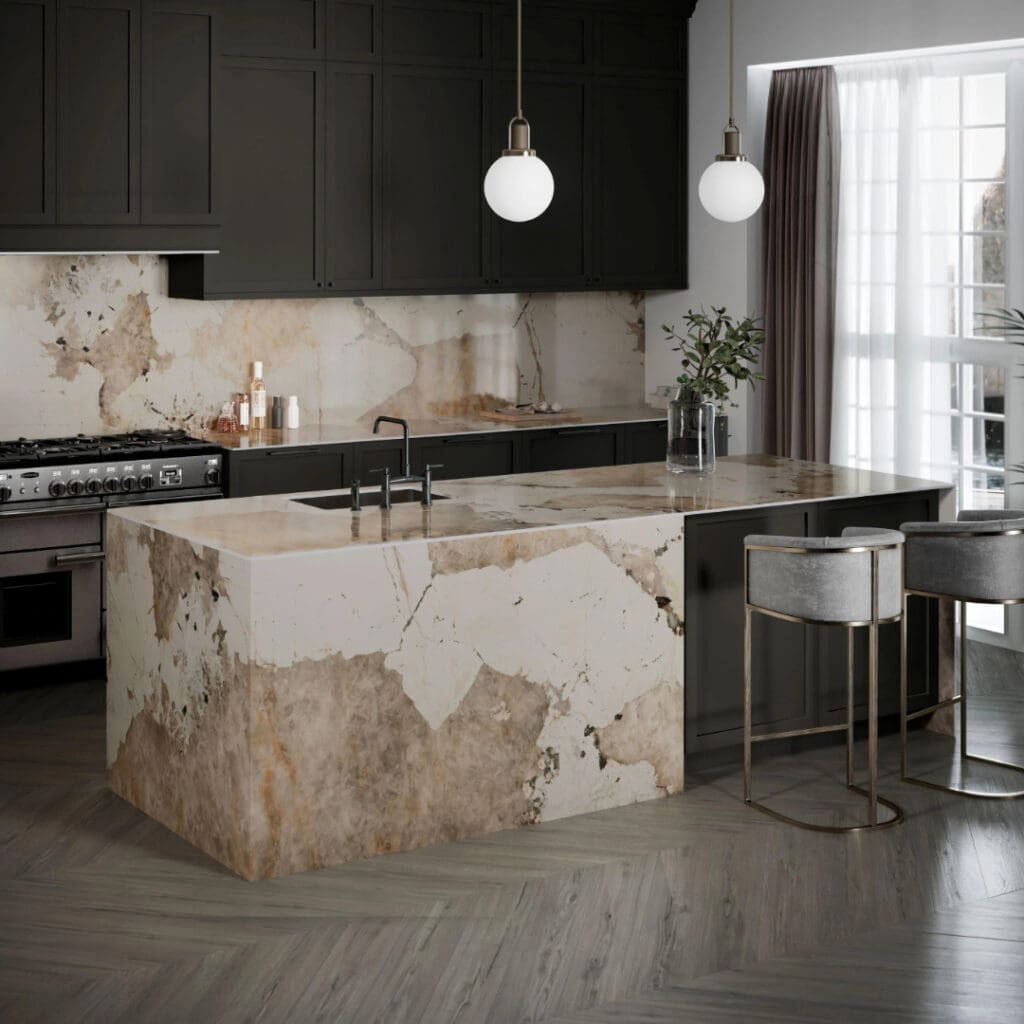 Natural Minerals
Moreover, sintered stone is made from natural minerals and doesn't emit any harmful chemicals or pollutants. The manufacture of sintered stone also consumes less energy in comparison to other frequently used worktop materials. It's produced in an energy-efficient way and no harmful residue is generated. This means that by choosing sintered stone for your kitchen worktop, you can make a more sustainable choice without sacrificing style or functionality.
Frequently Asked Questions about Sintered Stone
Can sintered stone be used for outdoor applications?Certainly! Sintered stone is a highly robust material, making it a good option for outdoor kitchen applications such as external kitchen worksurfaces, cladding and flooring. The material is able to withstand most outdoor elements, from harsh weather conditions to UV rays.
What kind of maintenance is required for sintered stone? Sintered stone requires very little maintenance! You merely have to clean it with a mild detergent and warm water, and it's generally less prone to staining.
What are popular sintered stone brands? Popular brands that manufacture and distribute sintered stone include Dekton, Neolith and Lapitec. Each produces high-quality sintered stone that is ideal for kitchen worktops and surfaces.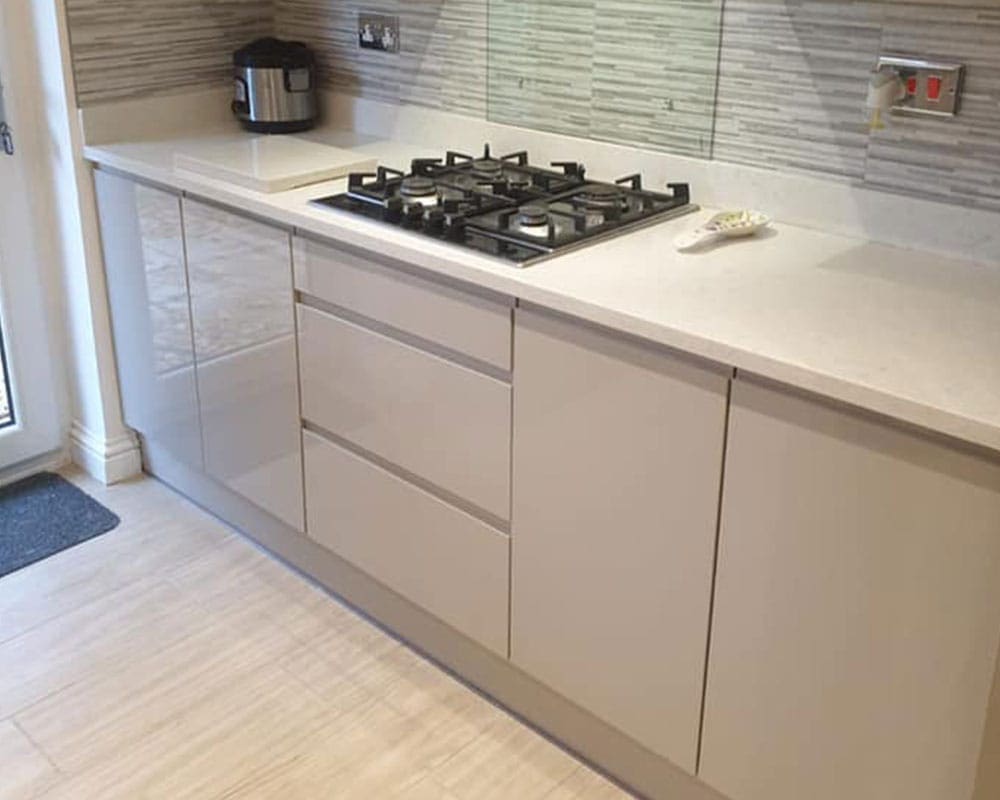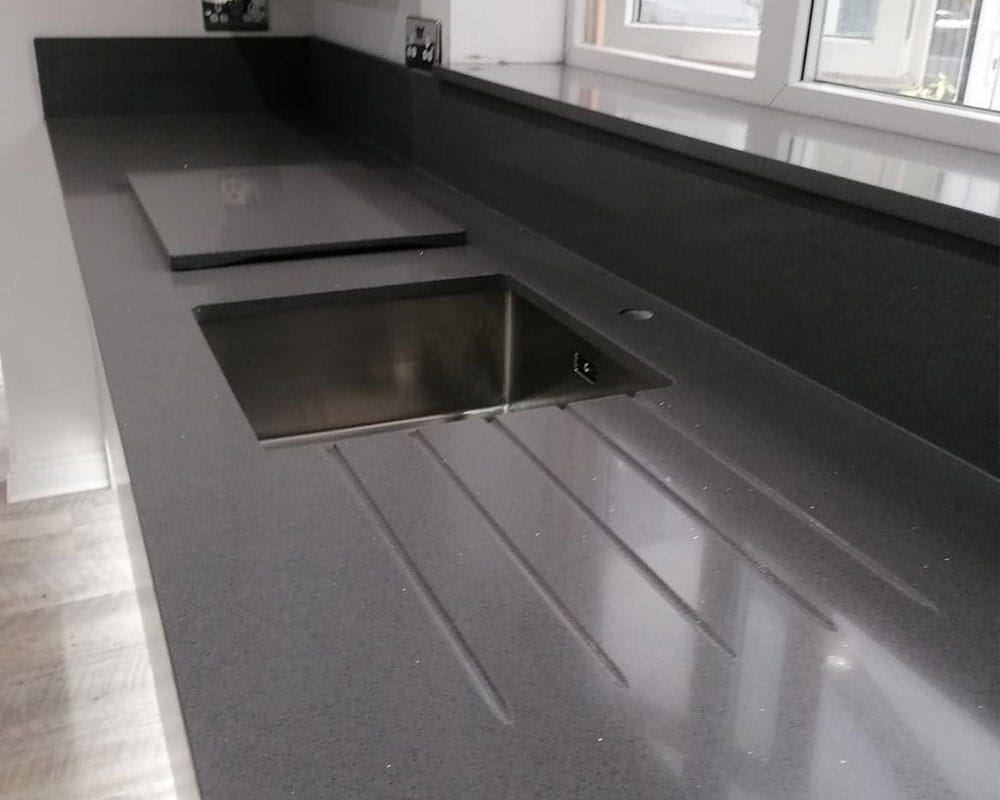 Find Your Perfect Sintered Stone Worktops
In conclusion, sintered stone is a versatile and dense material that is ideal for bathroom and kitchen worktops due to its low maintenance, durability, and heat and water resistance. Its wide range of colours and patterns also make it a stylish option that can be customised to fit any aesthetic, whilst emulating the beauty of natural stone. Sintered stone has the added benefit of being eco-friendly, making it a more sustainable option for those looking to reduce their carbon footprint. Ultimately, sintered stone is a cost-effective, long-lasting and stylish choice for homeowners looking for a durable and sophisticated addition to their homes.
If you would like to explore our extensive range of luxury sintered stone kitchen and bathroom work surfaces, please contact Royal Marble in Oldbury today!
Book A Design Appointment