What are Kitchen Worktop Pop Up Sockets?
Kitchen worktop pop up sockets are electrical outlets that are installed into a kitchen or home office worksurface. They typically consist of a socket unit that is integrated within the surface of the worktop, and a pop-up mechanism that allows the socket unit to be raised and lowered as needed. When the socket unit is in the "down" position, it is flush with the work surface and not visible.

To use the socket, the pop-up mechanism is activated, and this raises the socket unit upwards from the worksurface. This reveals the electrical outlets, providing an easily accessible power outlet for kitchen appliances such as blenders, toasters, and coffee makers. When not in use, pop up sockets simply retract back into the worksurface, so they are once again hidden from plain sight and re-establish a seamless and clutter free kitchen aesthetic.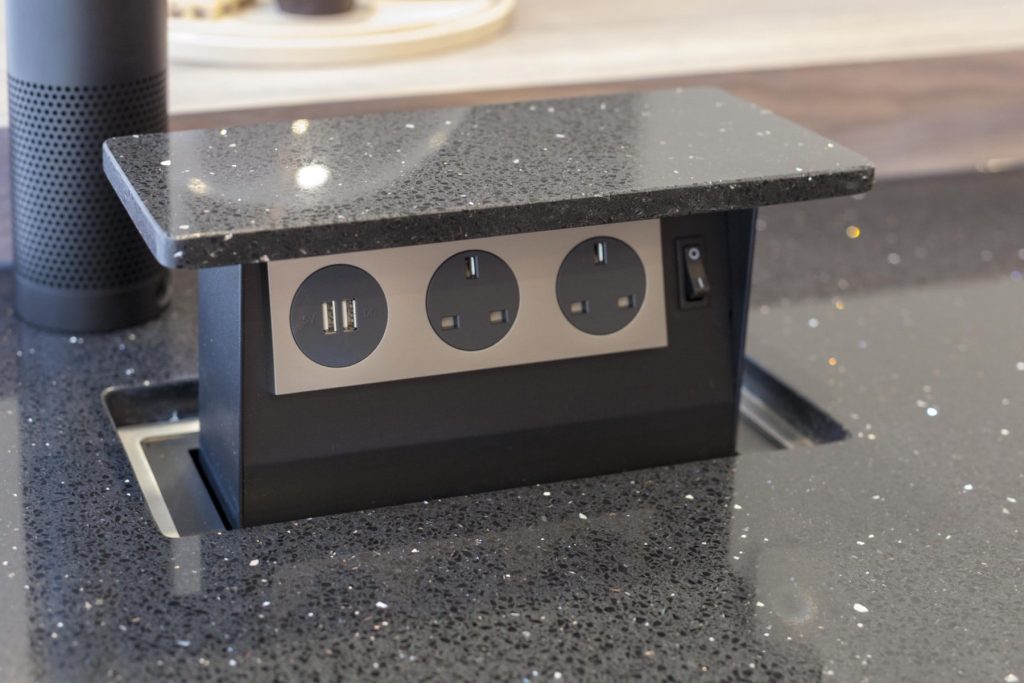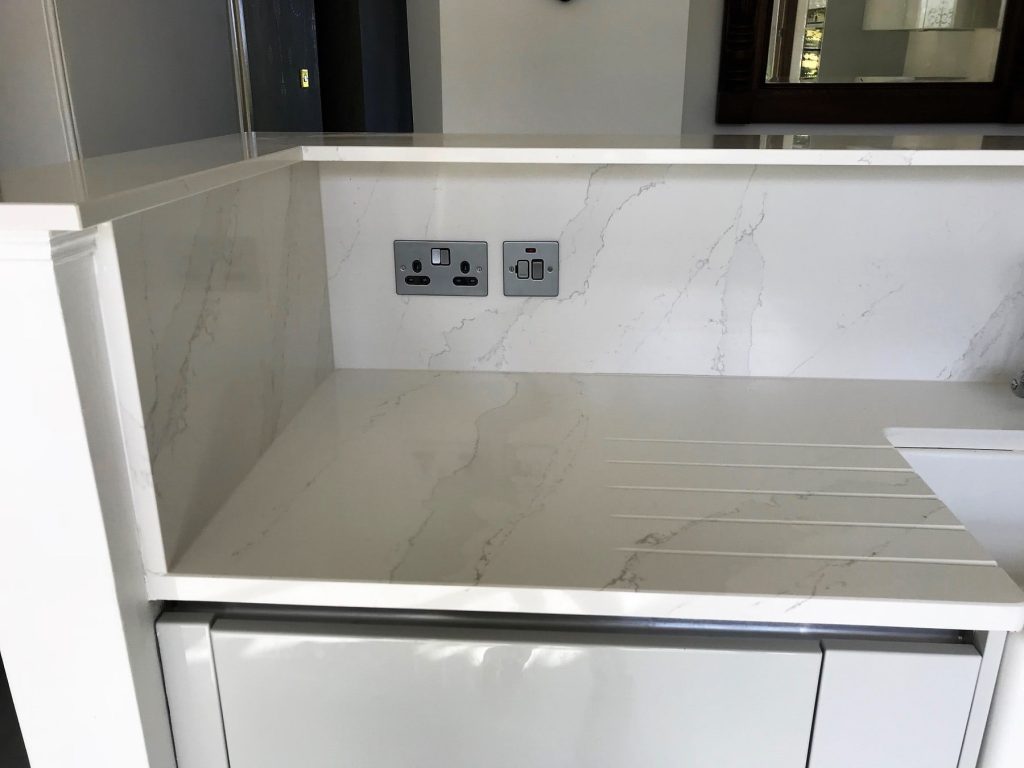 How is a Pop Up Socket Activated?
Activation of the socket's pop-up mechanism can be done manually by pushing a button, pulling a lever, or by pressing a switch. Some models even have an automatic pop-up mechanism with a sensor that detects the presence of a plug or device and pops up automatically; this then retracts back when the device is removed. When the socket unit is not in use, the pop-up mechanism can be activated again to lower the unit back into the work surface and out of sight.
What do Worktop Pop Up Sockets Look Like?
At Royal Marble we can provide kitchen pop up sockets in a variety of styles and designs. They can even be made as an exact match for the colour and finish of your work surface, ensuring they blend in seamlessly with their surroundings. To assist with this, pop up sockets typically have a low profile to ensure they lie flush with the surface of the worktop when not in use.
Many popular worktop pop up sockets feature a circular or rectangular design and are made of plastic or metal. They can have one or more electrical outlets and are available with the option of integrated USB charging ports for added convenience. To activate the pop up socket, models usually have a button, lever, a switch, or a sensor. Alternatively, more minimalist designs may feature a simple, discreet button that blends into the surface when not in use.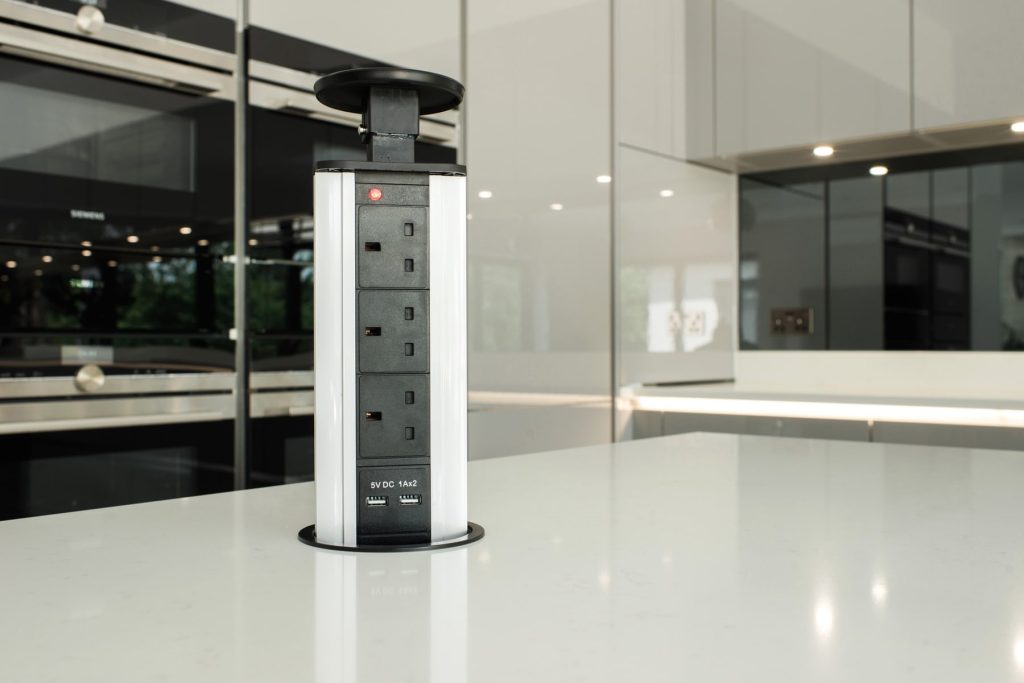 What Are the Main Benefits of Worktop Pop Up Sockets:-
Increased Convenience: Worktop pop up sockets allow for easy access to power outlets without having to reach behind appliances or furniture, and without having to unplug other kitchen elements to free up an electrical outlet.

Space Saving: Pop up sockets can be hidden away when not in use, which helps to keep the work surface clear and uncluttered, also maximising usable space.

Improved Safety: Worktop pop up sockets reduce the need for extension cords and power strips lying around your kitchen. This can prove a trip hazard and is an even greater risk for families with young children or pets.

Enhanced Aesthetics: Kitchen pop up sockets can be designed to match your work surface, which helps maintain a sleek and polished look throughout your kitchen or home office.

Increased functionality: Kitchen pop up sockets allows you to have multiple electrical outlets within a single surface as per requirement. Again, this goes a long way to keeping your kitchen workspace clean and organized.
A Sleek And Convenient Kitchen Solution
In summary, worktop pop-up sockets are an elegant solution for adding electrical outlets to a work surface without compromising on aesthetics or functionality within your kitchen. They can be easily installed and integrated into the work surface, so they are easily accessible and convenient when you need a source of power, yet hidden away when you don't! Very unobtrusive, a professional worktop supplier can customize your pop-up sockets to match the style of your kitchen, successfully integrating then within your new work surface with a sleek and cohesive look.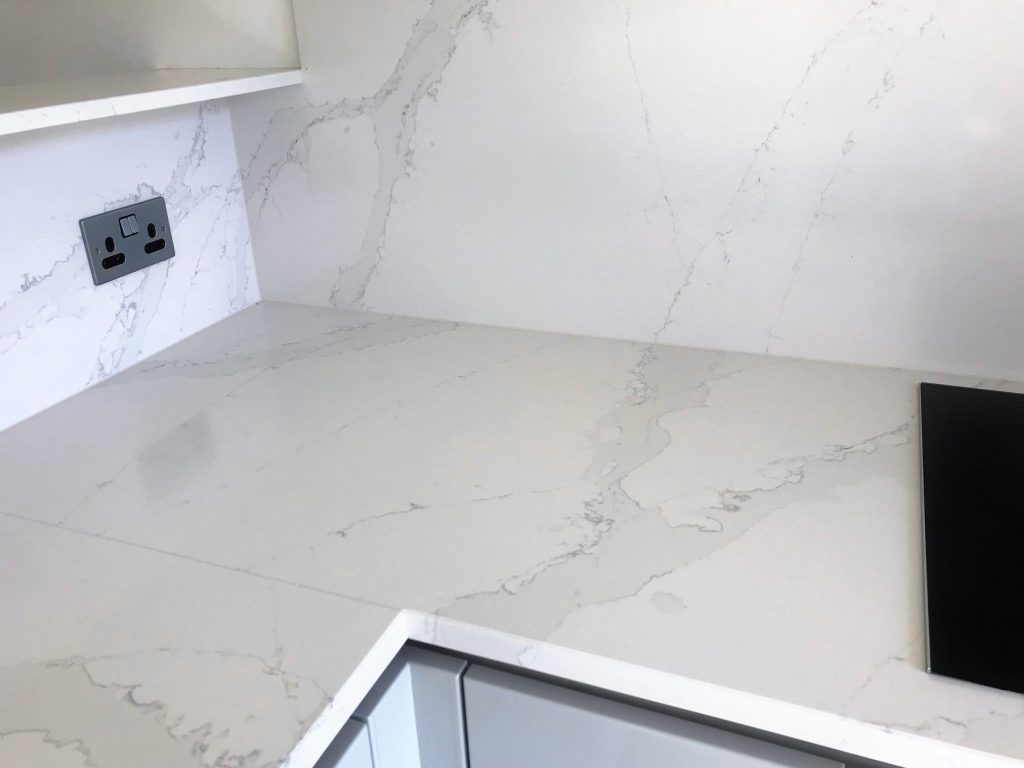 Book A Design Appointment