Maintaining Luxury Sintered Stone Worktops
Sintered stone is a relatively new worktop material that has gained popularity in recent years in large part due to its low maintenance character which makes it a stylish yet practical solution for living spaces. Today, sintered stone worktops are renowned for their ease of maintenance, providing homeowners with a non-porous nature and remarkable resistance to scratches, stains, and heat make these surfaces an ideal choice for both kitchens and bathrooms.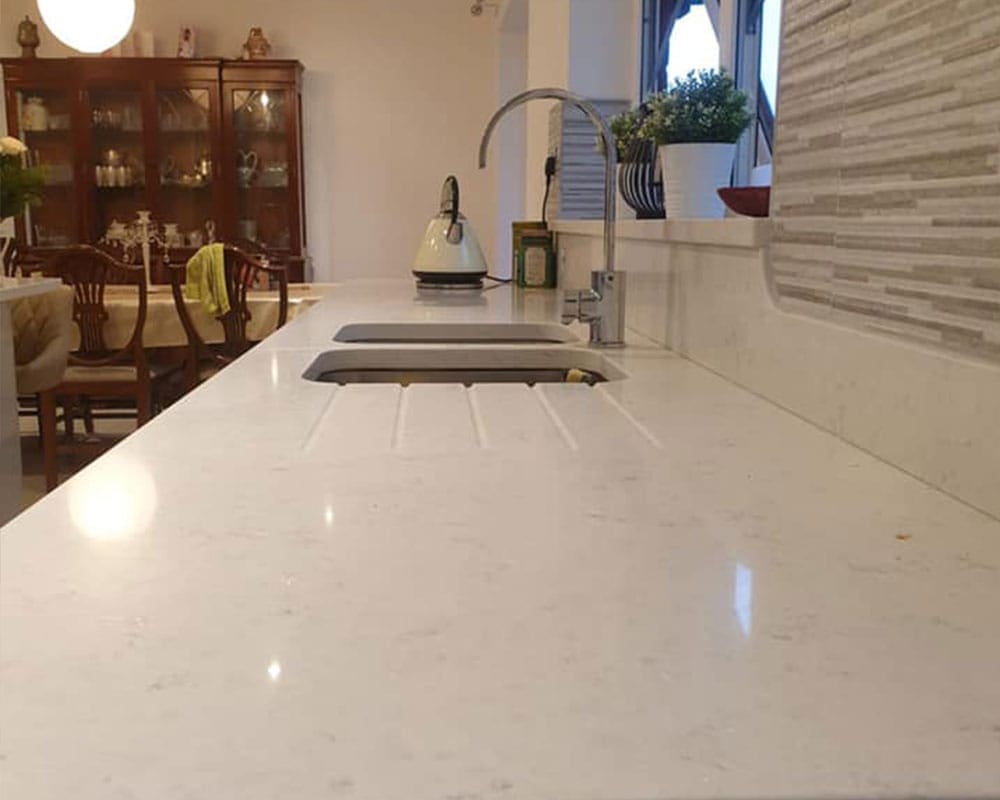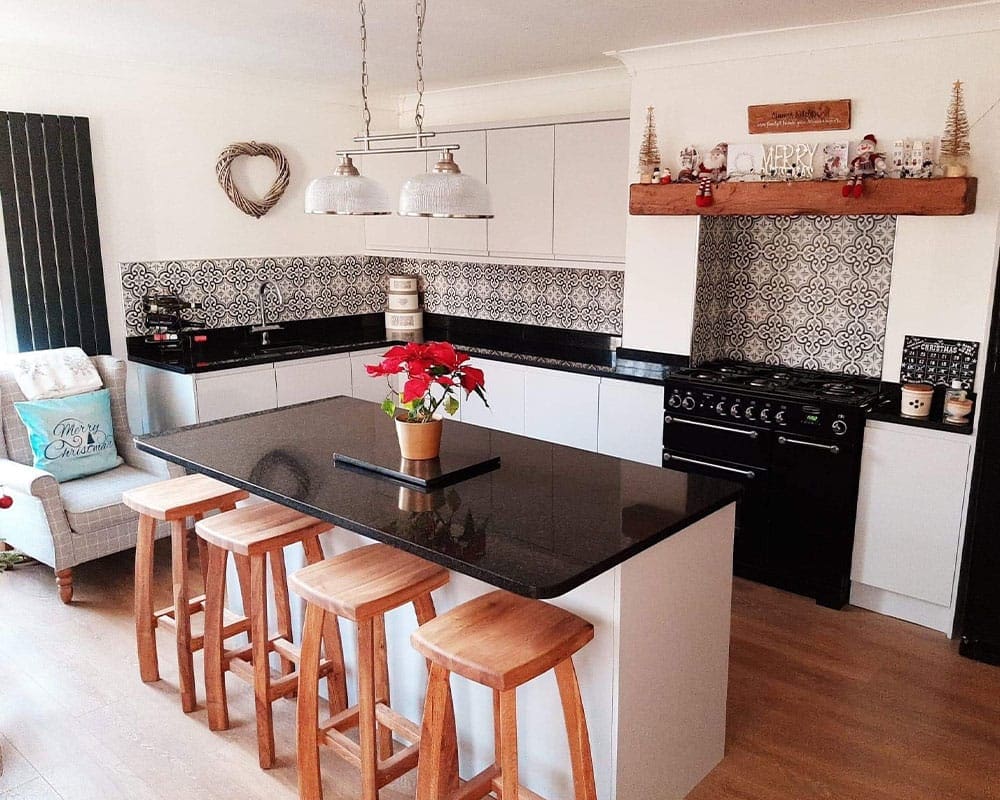 How Durable Are Sintered Stone Worksurfaces?
Understanding the composition of sintered stone can be a great help when it comes to maintaining its appearance and ensuring its longevity. Sintered stone worktops are made by combining natural minerals, such as silica, feldspar and quartz, with pigments and binding agents. The mixture is then compressed under high pressure and heated to a temperature of around 1200°C, resulting in a dense and highly resistant material.
Resistant To Scratches
Because of its composition, sintered stone is highly resistant to scratches, heat and stains, making it ideal for worktops used in kitchens or bathrooms. However, it's not completely impervious to damage and requires some care and maintenance to keep it looking its best. One important factor to consider when maintaining sintered stone is its porosity. While this material is less porous than natural stone, sintered stone is not completely non-porous. Liquids, especially acidic ones like vinegar or lemon juice, can still seep into the surface and cause staining if you're not careful. Yet, with proper care, sintered stone worktops can last for decades and continue to look as good as new!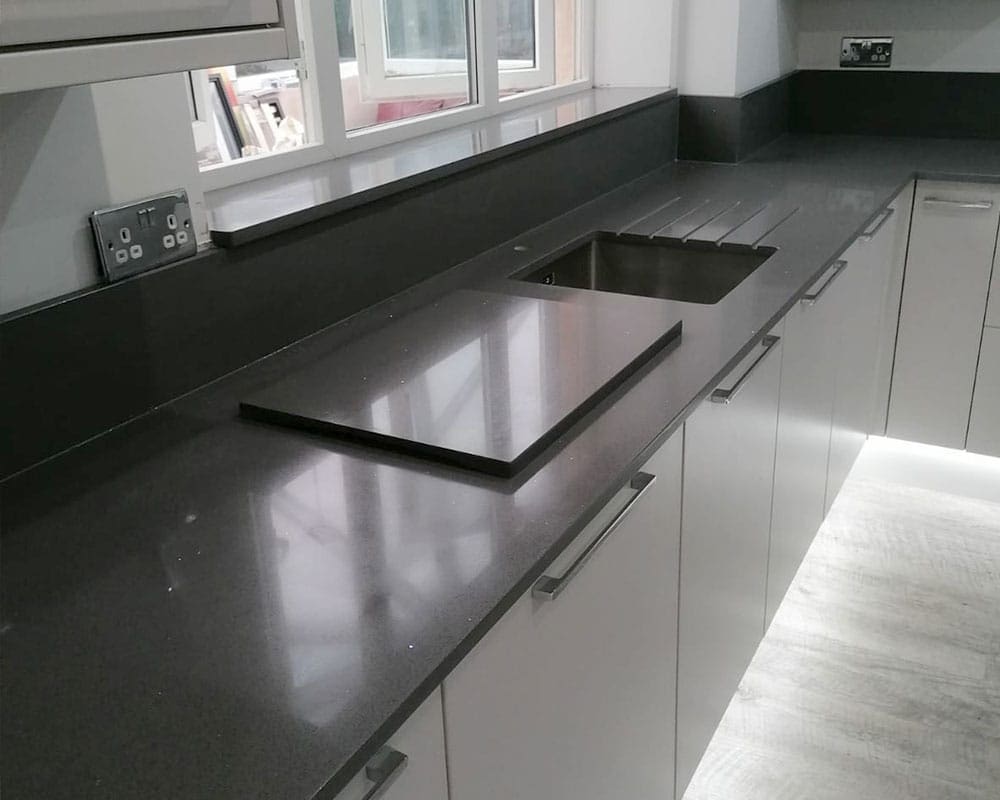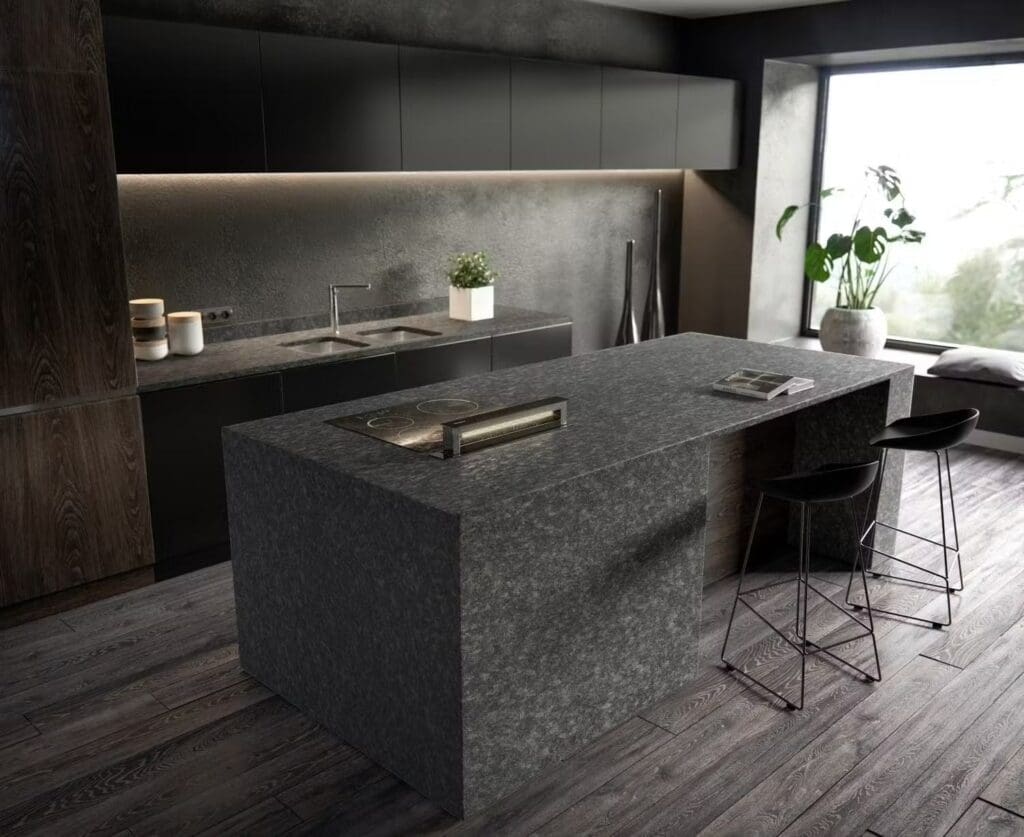 Best Practices for Cleaning and Maintaining Your Sintered Stone Worktops
Cleaning and maintaining your sintered stone worktops is relatively easy and straightforward. By following a few simple best practices, you can keep your worktops looking pristine, without worrying about any permanent damage!
Firstly, it's essential to clean up spills as soon as possible to prevent staining. Use a soft cloth or paper towel to wipe away any spills or stains as soon as you see them. To clean your sintered stone worktops on a regular basis, use a pH-neutral cleaner and a soft cloth or sponge. It's best to avoid using abrasive sponges or scouring pads, as they might end up scratching the surface. You'll also want to avoid using harsh chemicals like bleach or ammonia, because these can likewise damage the surface of your sintered stone worktop.
If you come across a particularly stubborn stain or spill, you can use a poultice made of baking soda and water to clean it. Simply mix the two ingredients to create a paste and apply it to the stain, then cover the paste with plastic wrap and let it sit overnight. In the morning, you can remove the plastic wrap and wipe away the paste with a soft cloth, leaving behind a clean work surface.
It's also important to avoid placing hot items directly on your sintered stone worktops. Try using coasters, trivets or hot pads to protect the surface from heat damage.
Common Maintenance Mistakes to Avoid When Caring for Your Sintered Stone Worktops
When it comes to caring for sintered stone worktops, many homeowners unfortunately make common maintenance mistakes that can damage the surface, resulting in costly repairs or replacements.
One of the most common mistakes homeowners make when trying to clean their sintered stone surface is using abrasive cleaners or scrubbers. Sintered stone is a highly durable material, but it's still susceptible to scratches and damage from harsh chemicals and abrasive materials. It's important to use mild, non-abrasive cleaners and soft cloths to clean your worktops. Another mistake homeowners often make is neglecting to clean up spills immediately. If you want your worktop to remain pristine, try forming the habit of instantly wiping away stains as they occur. Substances such as red wine or lemon juice can cause permanent damage if left to sit for too long.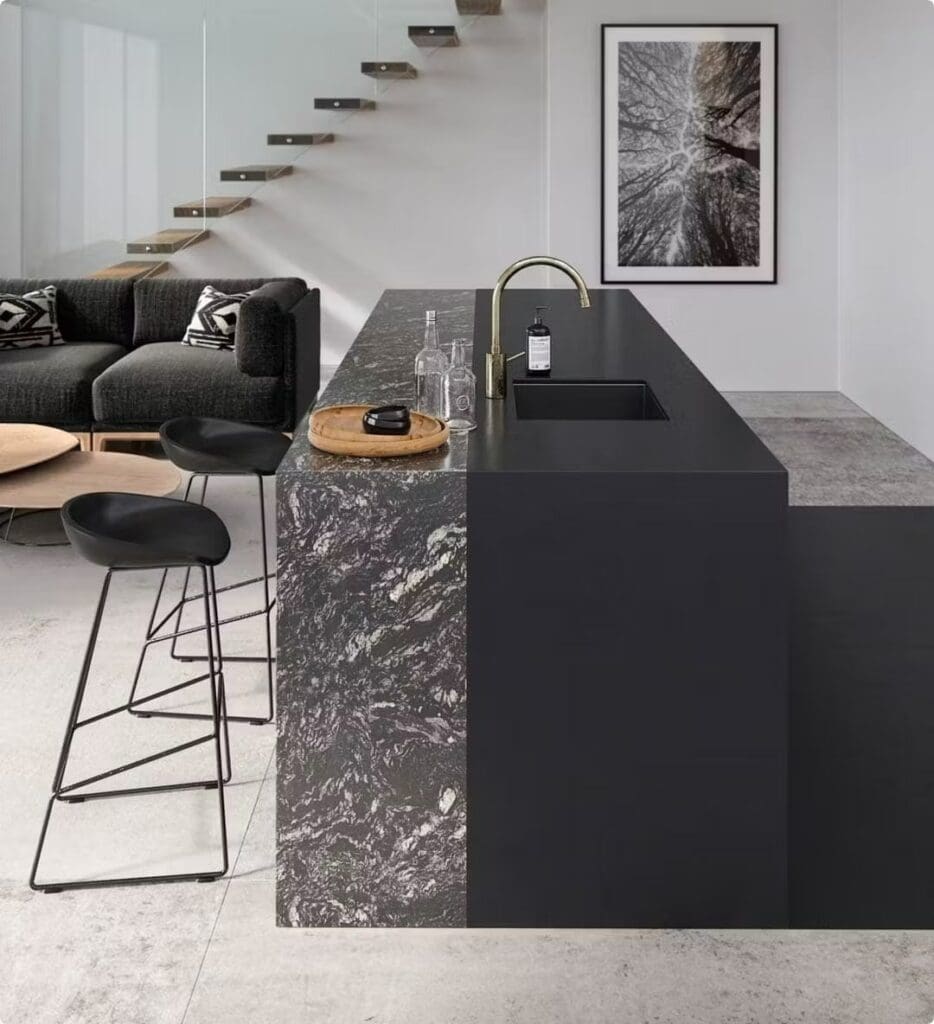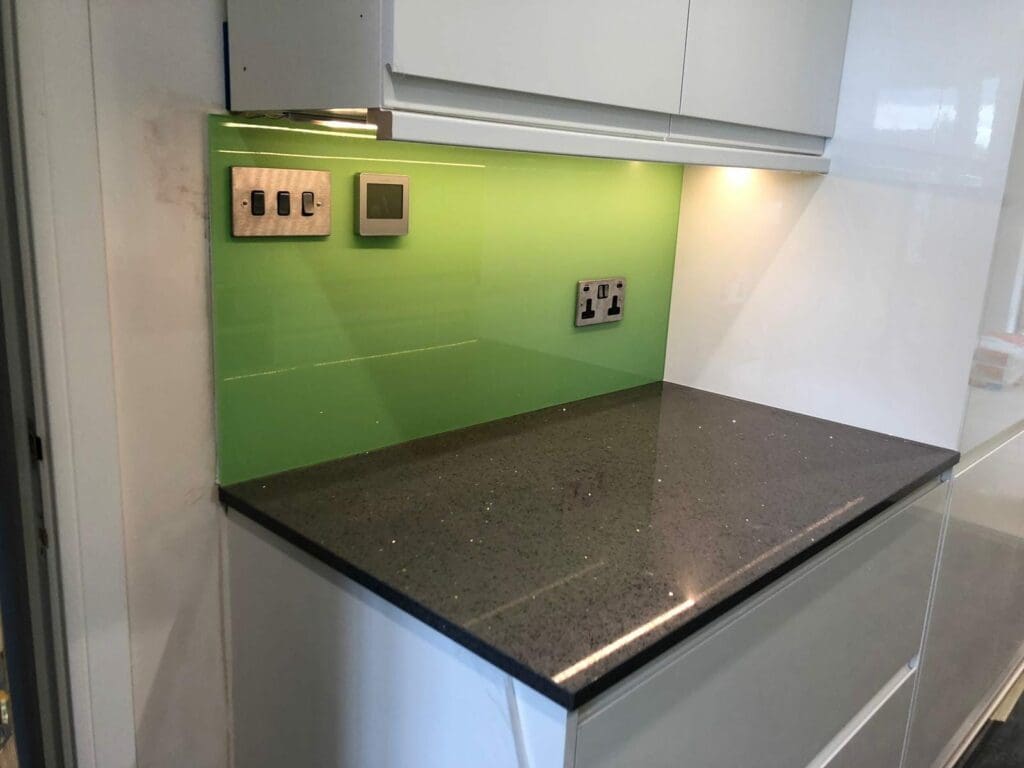 Use Cleaning Products Recommended By The Manufacturer
A common pitfall you'll definitely want to avoid is using the wrong cleaning products. This is easy to mix up, so be careful and always pay attention to which products you're using on your worktops. Some cleaning agents can damage the finish of the sintered stone or leave a dull film. We'd suggest that you always use cleaning products recommended by the manufacturer, or if you're unsure which products to use, consult with a professional rather than risking further damage.
The Importance of Regular Maintenance and Professional Restoration for Your Sintered Stone Worktops
If you want to keep your sintered stone worktops in peak condition, regular maintenance and professional restoration are crucial for their longevity and appearance. Neglecting proper care can result in damage, dullness or staining. In addition to regular maintenance, professional restoration may be necessary to fully restore your sintered stone worktops.
A professional restoration service can use specialised equipment and techniques to restore the finish and shine of your worktops, which you might not be able to do by yourself. Professional restoration could also become necessary in the case of severe damage or staining. A professional can assess the damage and determine the best course of action, whether it be repair or replacement. If you're unsure how to proceed with a stubborn stain or deep scratch, it's best to consult a professional instead of risking further damage to your worktop by attempting to restore it yourself.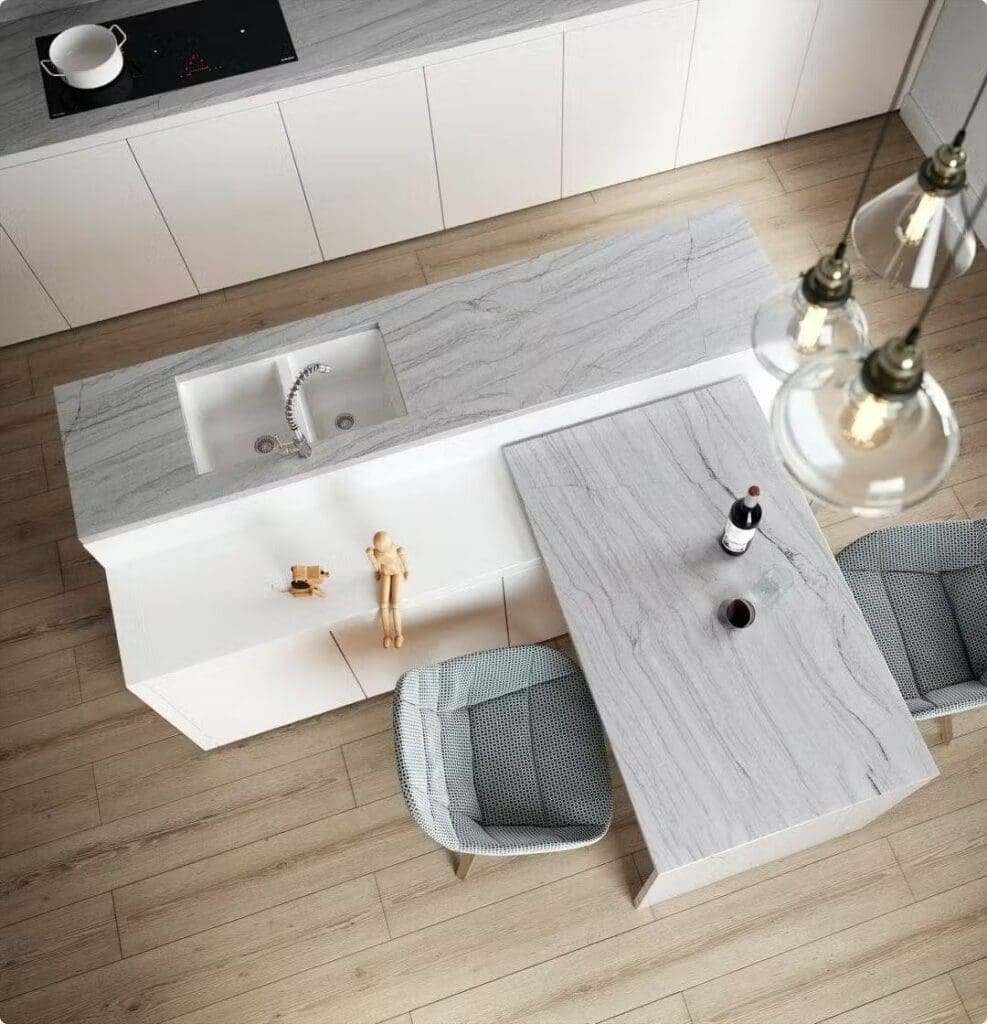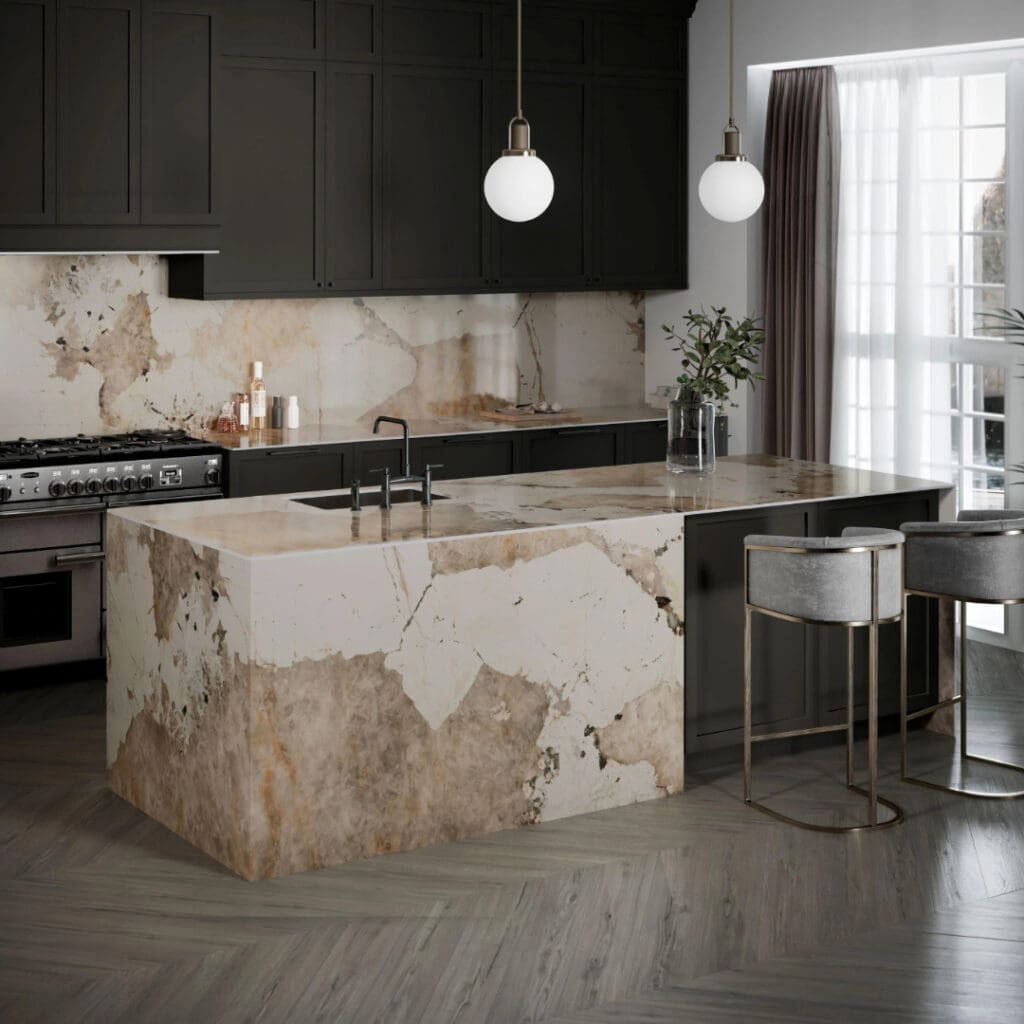 Conclusion
Hopefully you now know more about the importance of maintenance and regular cleaning when it comes to keeping your sintered stone worktops in top condition. By following the manufacturer's recommendations for care and maintenance, you can prevent damage and extend the lifespan of your worktops! Neglecting proper care and maintenance can result in damage, dullness or staining, so it's important to prioritise the upkeep of your sintered stone worktops. With proper care and maintenance, you can ensure that your worktops remain beautiful and durable for years to come.
Book A Design Appointment