Quartz Kitchen Worktops
Quartz is a very popular work surface material for use in modern kitchens and bathrooms, proving stylish, practical and long-lasting. With its stunning array of colours and patterns, quartz can bring a touch of elegance to any kitchen or bathroom design. But it's not just the aesthetic appeal that makes quartz a top choice for homeowners and designers alike. Quartz worktops are also highly durable, low-maintenance, and resistant to scratches, stains, and heat. If you're considering quartz worksurfaces then here, Royal Marble worksurface specialists, explain the different properties and benefits of quartz worktops, and why they can prove such a smart investment for your home.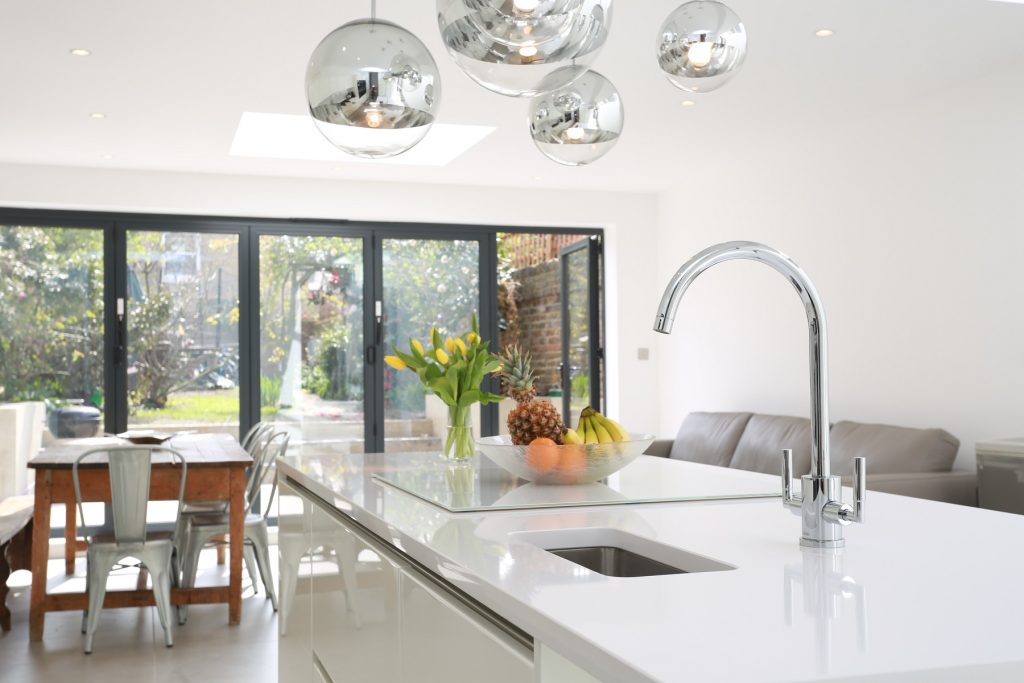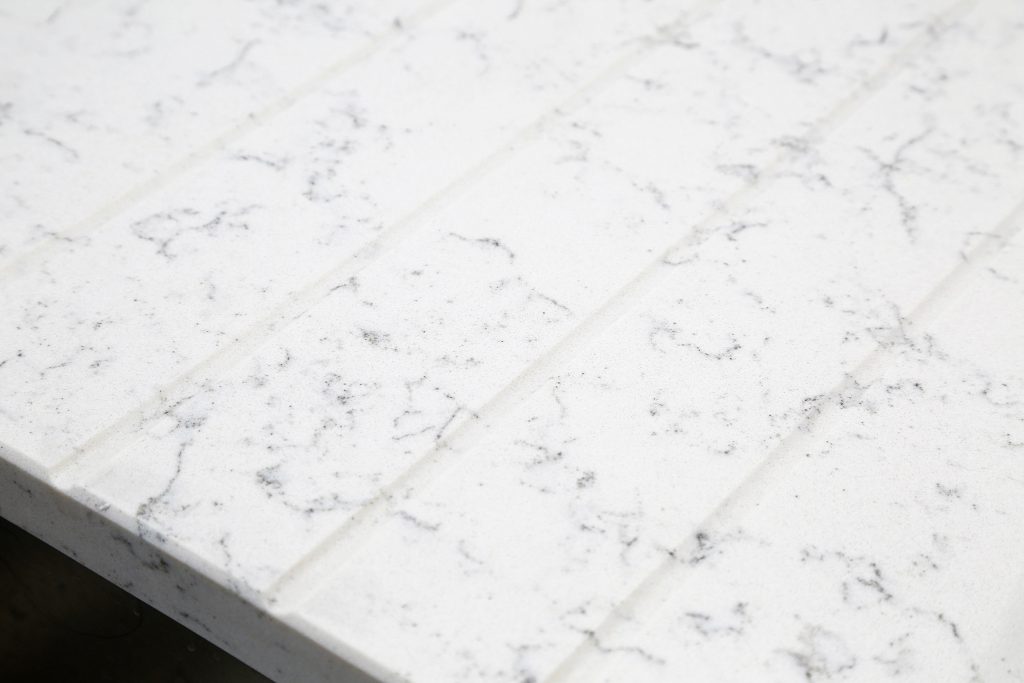 What is A Quartz Worktop?
Firstly, what is a quartz kitchen worktop? Quartz, as a worktop surface, is a form of engineered stone, meaning that it's man-made rather than a naturally occurring material. A quartz worktop contains around 90% of ground quartz particles which are bound together with a blend of colour pigments and binding polymer resins, which make up the other 10%. The resulting quartz materials is extremely hard and durable which makes it ideal for use in high-traffic areas such as kitchens and bathrooms as it can easily withstand everyday wear and tear. It is also a popular design choice due to its versatility and sleek overall look.
How Durable are Quartz Kitchen Worktops?
Quartz makes an excellent kitchen worktop material because of its durability. A significant benefit of quartz is that it is non-porous, which means that it's not permeable to water and other fluids. This is a huge plus when it comes to cleaning and maintenance as most spills, dirt or stains can be cleaned off without much effort. This also means quartz does not harbour bacteria and is resistant to mould, which makes it very hygienic; a perfect choice for kitchen and bathroom spaces.
As well as being easy to clean and maintain, quartz work surfaces are also less likely to succumb to everyday wear and tear. Whilst not impervious to excessive amounts of pressure, in general, their strong, robust surface ensures that they are resistant to chips and scratches. Due to this, quartz worktops are also cost-effective in the long run, since they look new and undamaged even after a significant period of use.
A further benefit of quartz worksurfaces is that they don't require sealing like granite or marble worktops, which need to be sealed upon installation and then regularly re-sealed throughout their lifespan. This means that quartz requires much less maintenance in the long run.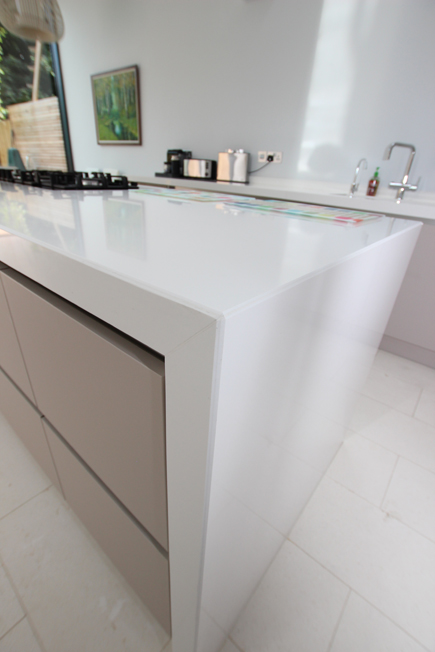 Quartz Kitchen Worktop Colours and Styles
Quartz worktops are additionally popular due to their sleek and elegant surface exterior. With quartz, it's easy to achieve clean and sharp lines, adding to a sophisticated and contemporary kitchen or bathroom aesthetic. What's more, because quartz is a processed stone, it can easily be customised within a wide range of colours and surface patterns. This makes it easy to match with different kitchen or bathroom design styles and colour schemes, and regardless of your taste, you're likely to find a quartz colour that's just right for you.
What is the Difference Between Honed Quartz and Polished Quartz?
Honed and polished are two types of finishes that can be applied to quartz surfaces, producing very different looks. Honed quartz has a matte, non-reflective finish that is achieved by grinding the surface of the quartz with abrasives until it becomes smooth but without a shine. The result is a soft, velvety texture that is ideal for creating a more relaxed or rustic ambience.
Polished Quartz, on the other hand, has a glossy, reflective finish that is achieved by grinding the surface with increasingly fine abrasives until it becomes smooth and shiny. The result is a sleek, elegant appearance that is perfect for a modern or contemporary setting.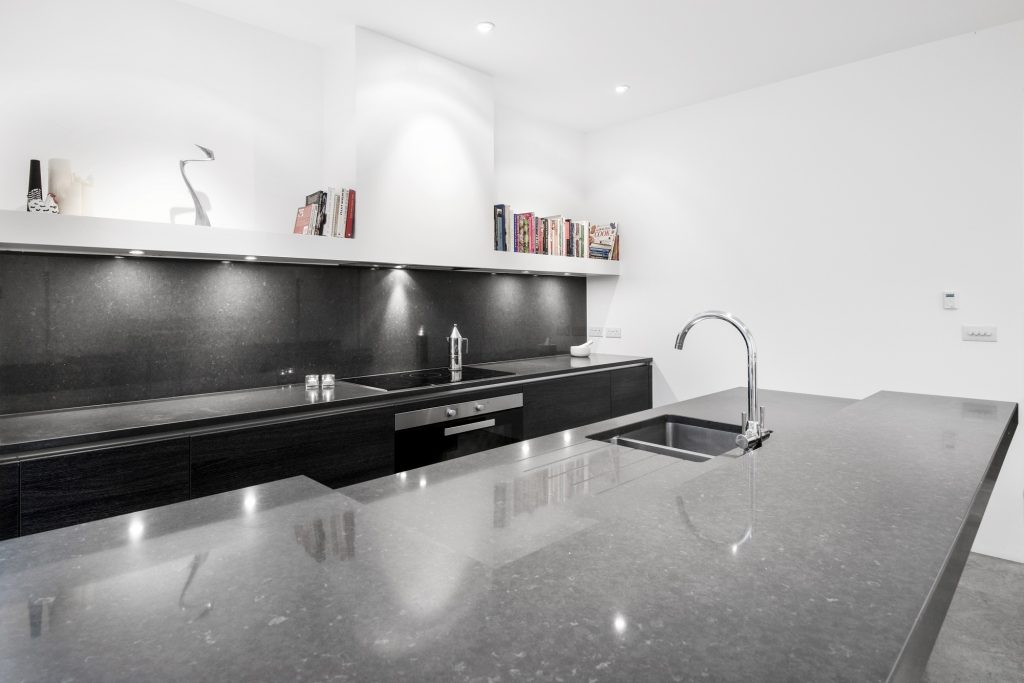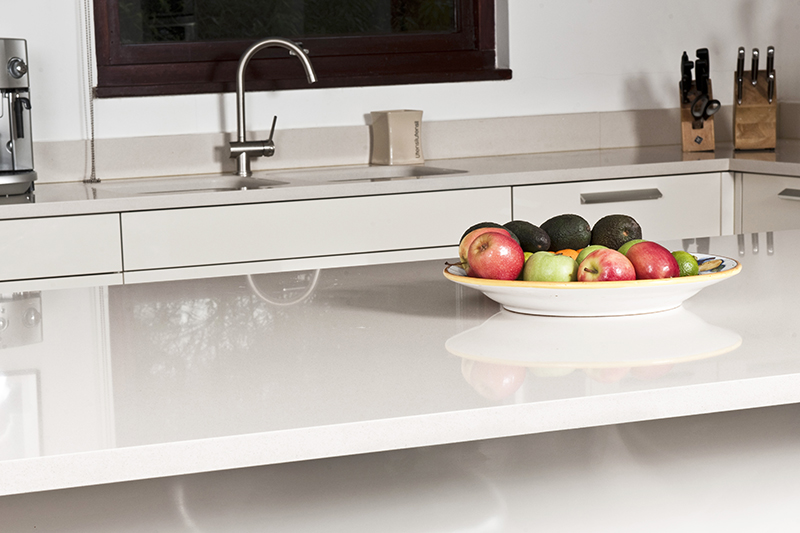 All About Preference
The difference in appearance between honed and polished quartz is mainly a matter of personal preference and the design aesthetic of the kitchen or bathroom space. Some people prefer the more natural, understated look of honed quartz, while others prefer the glossy, luxurious look of polished quartz.
It's worth noting that honed quartz is more susceptible to staining and requires more maintenance than polished quartz, which is more resistant to stains and easier to clean. Ultimately, the choice between honed and polished quartz comes down to your personal style and the demands of your lifestyle.
What Quartz Worktop Colours Are Available?
Since they can be artificially dyed using colour pigment there is an extensive choice of patterns and styles available within quartz, and far more options than in other worktop materials such as granite or marble. Popular quartz worktop colours include white or classic black, or else navy- blue quartz is a great alternative for black in terms of its rich and elegant feel. As it's man-made you can also find standout colours such as red, Rose Quartz, or even Emerald Green.
For those that want a more earthy feel in their kitchen, brown quartz has an appealing warm sheen that helps create an inviting kitchen atmosphere. And grey quartz is also a very popular colour for kitchen worktops. This colour appeals due to its versatility – from soft and earthy greys to dark and intense, it can enhance most colour schemes, whilst bringing a feel of quality and elegance to your space.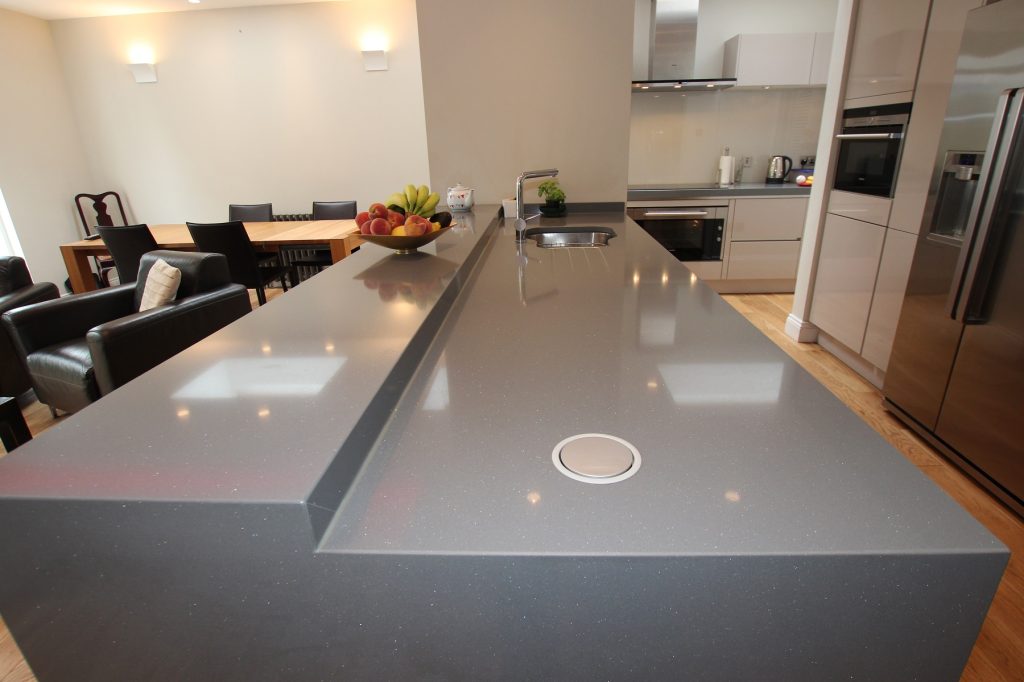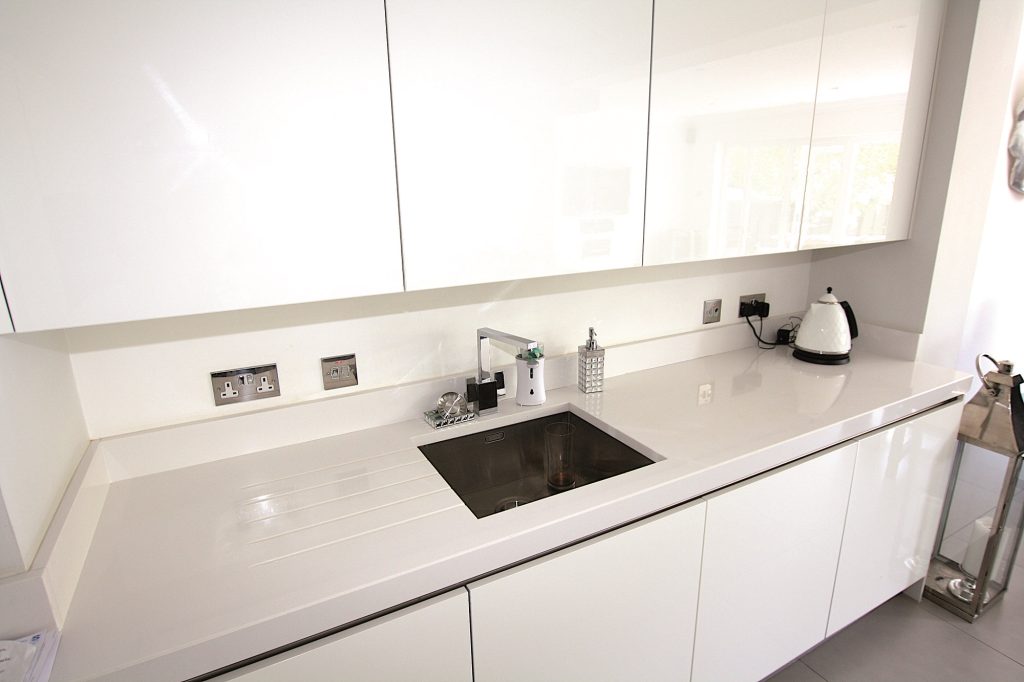 White Quartz Worktops
Currently, the most popular colour choice for quartz worktops is white, which lends itself perfectly to quartz's beautiful, sleek finish. White is a neutral colour that can complement any style or colour scheme and it's easy to incorporate into any design, whether you have a modern, traditional, or transitional aesthetic. White reflects light, making a room appear brighter and more spacious, which can be particularly beneficial in small kitchens or bathrooms. It is also a classic and timeless colour choice which – unlike some on-trend colours- will never look dated or tired over time. Finally, white is associated with cleanliness, which is particularly important in areas like kitchens and bathrooms, where hygiene is a top priority.
Because of white's natural brightness and a desire to catch the room's light, white quartz worktops with sparkle are also a popular worktop choice. Adding little bits of sparkle to the worktop often enhances its gleam and shine. This also makes the entire kitchen appear more luxurious, because the sparkles beautifully catch and help reflect the light. White quartz worktops with sparkle are a great way to introduce a unique element to your kitchen without overwhelming the space.
Veined Quartz Work Surfaces
Veined quartz work surfaces are quartz surfaces that feature distinctive veins that resemble those found in elegant natural marble. These veins are created using a special manufacturing process that combines natural quartz with resins, pigments, and other materials to create a surface that mimics the opulent look of natural stone, but without the same cost.
Carrara Quartz and Calacatta Gold are especially popular choices for UK homes because of their luxurious appearance and timeless appeal. Both feature a white or off-white background with Carrara Quartz recreating the smoky grey veins of Carrara Marble, whilst Calacatta Gold quartz features bold, dramatic veins in shades of grey or gold, and which give the worksurface a striking and elegant look.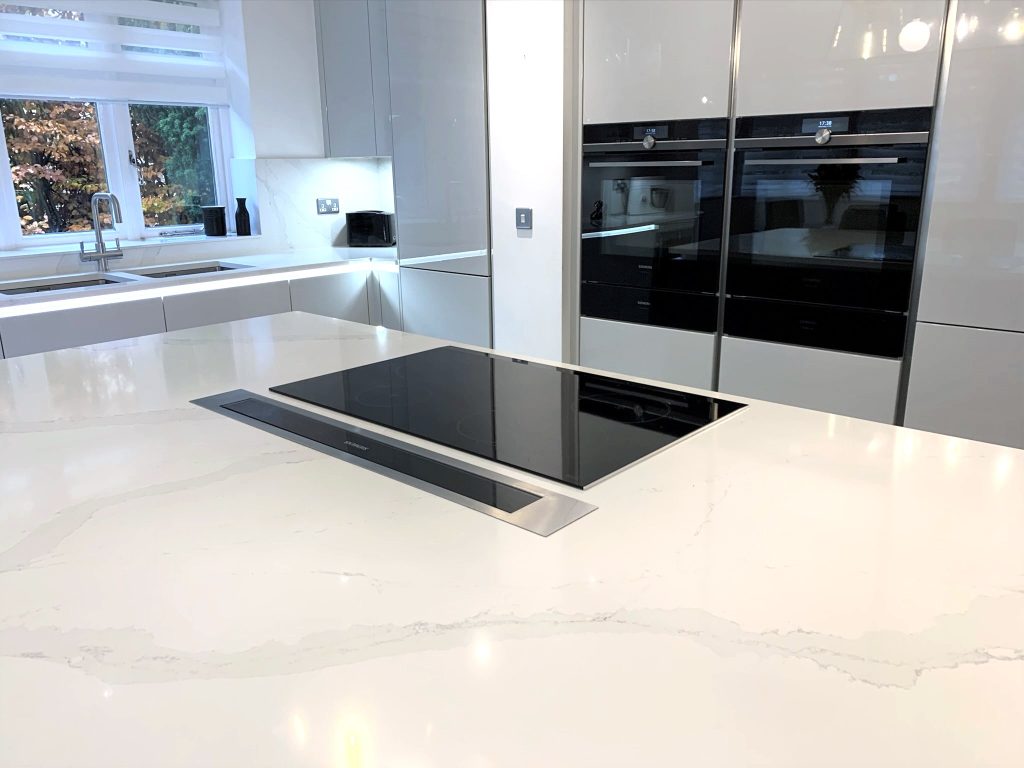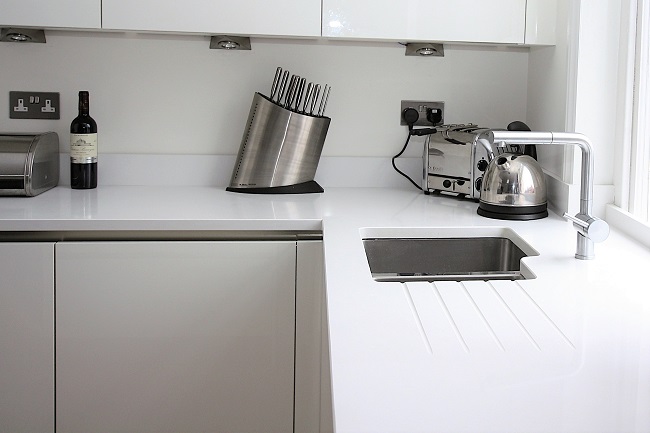 Why Carrara & Calcatta Gold Quartz Are Popular
Some of the reasons why Carrara quartz and Calacatta Gold quartz are so popular for UK homes include:
High-end look: Both worktops feature a premium and luxurious appearance that is associated with high-end homes and luxury properties.
Timeless appeal: The bold veining and white background of Calacatta Gold make it a classic choice that won't go out of style.
Versatility: Both Carrara quartz and Calacatta Gold are versatile surfaces that can be used in a variety of kitchen and bathroom designs, from traditional to modern.
Overall, veined quartz worksurfaces prove a popular kitchen and bathroom worktop trend for UK homes because of their stunning appearance, versatility, and durability. It's a surface effect that can add value and style to any luxury kitchen or bathroom design.
Textured Quartz Work Surfaces
Textured quartz worksurfaces are quartz surfaces that have a non-smooth or non-glossy finish, creating a textured or tactile surface. This texture is achieved through various manufacturing techniques, such as brushing, blasting, or etching, which create different patterns and depths of texture. Textured quartz worksurfaces have become increasingly popular in recent years, as they offer a unique and distinctive look that can add visual interest and character to any space.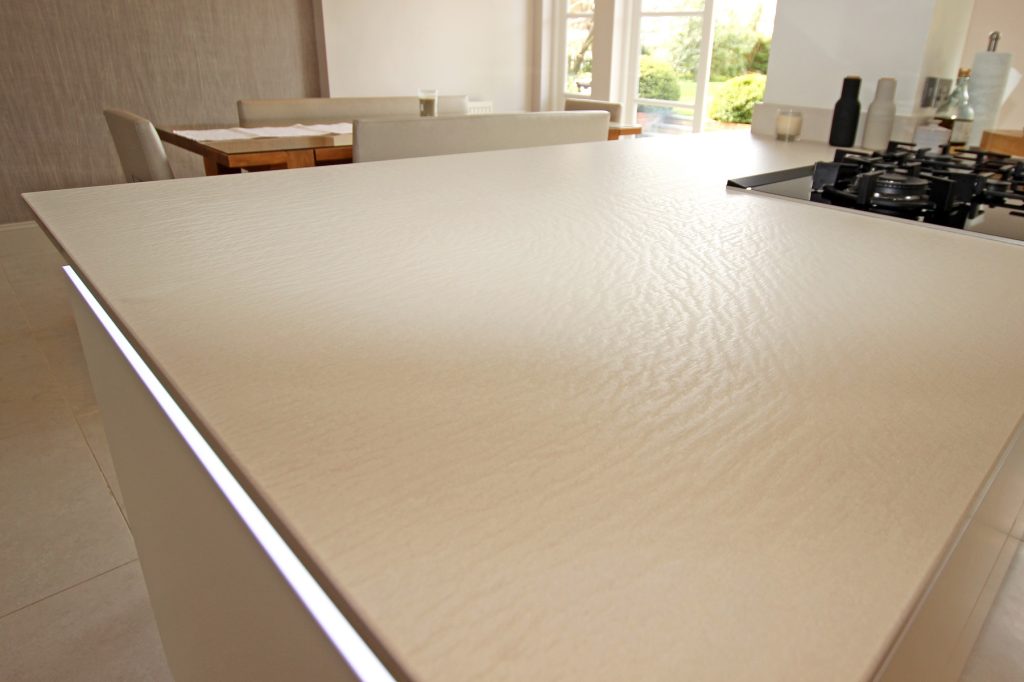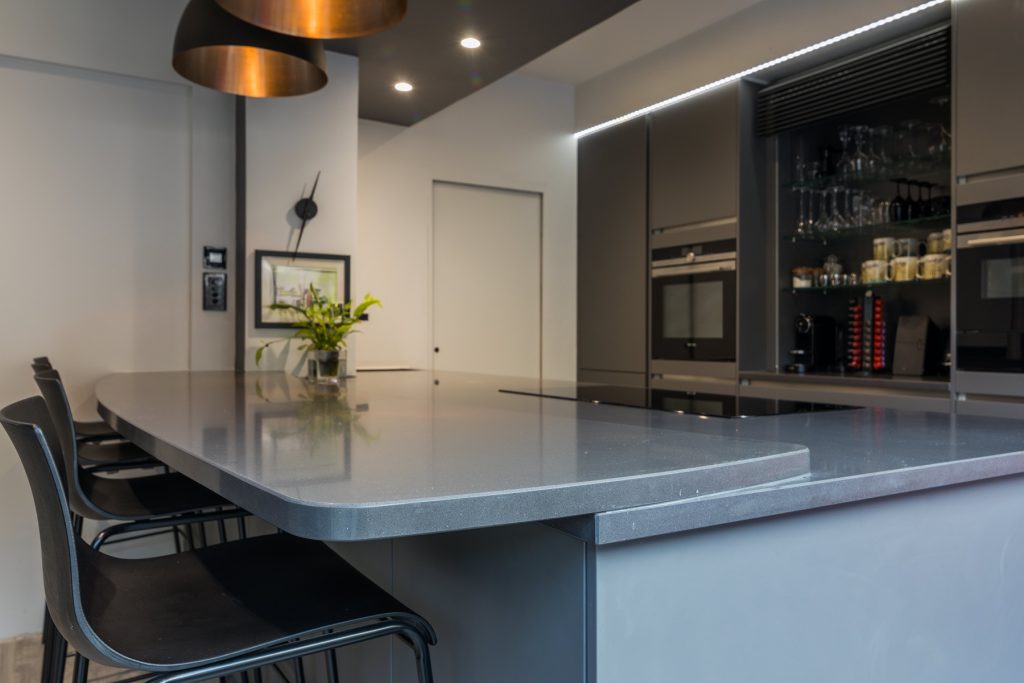 Drawbacks of Quartz Worktops
When it comes to quartz worksurfaces there are many benefits, but they do have some potential drawbacks as well, including:
Cost: Quartz worktops can be more expensive than other materials such as laminate or solid surface. The cost can vary depending on the quality of the quartz and the complexity of the installation.
Heat resistance: While quartz is generally heat-resistant, it is not completely heat-proof. Extreme heat can cause the resin to discolour or crack, so it's important to use trivets or hot pads rather than place a hot saucepan straight from the oven onto the work surface.
Stain resistance: While quartz is generally stain-resistant, certain substances such as red wine or oil can leave a mark if not cleaned up quickly. It's important to clean up spills as soon as possible to prevent staining.
Installation: Quartz worktops are heavy and require professional installation, which can add to the overall cost.
Overall, the drawbacks of quartz kitchen worktops are relatively minor compared to the benefits they offer. However, it's important to consider these factors when choosing a worktop material to ensure it is the best choice for your specific needs and preferences.
Find your Perfect Quartz Worktop
Overall, the drawbacks of quartz kitchen worktops are relatively minor compared to the many benefits they offer, and quartz makes a fantastic choice for any kitchen or bathroom space. Their versatile, stunning look ensures a winning aesthetic, whilst a strong and durable nature makes them low-maintenance and long-lasting.
If you would like to explore our extensive range of luxury quartz kitchen and bathroom worktops, please contact Royal Marble in Caerphilly today!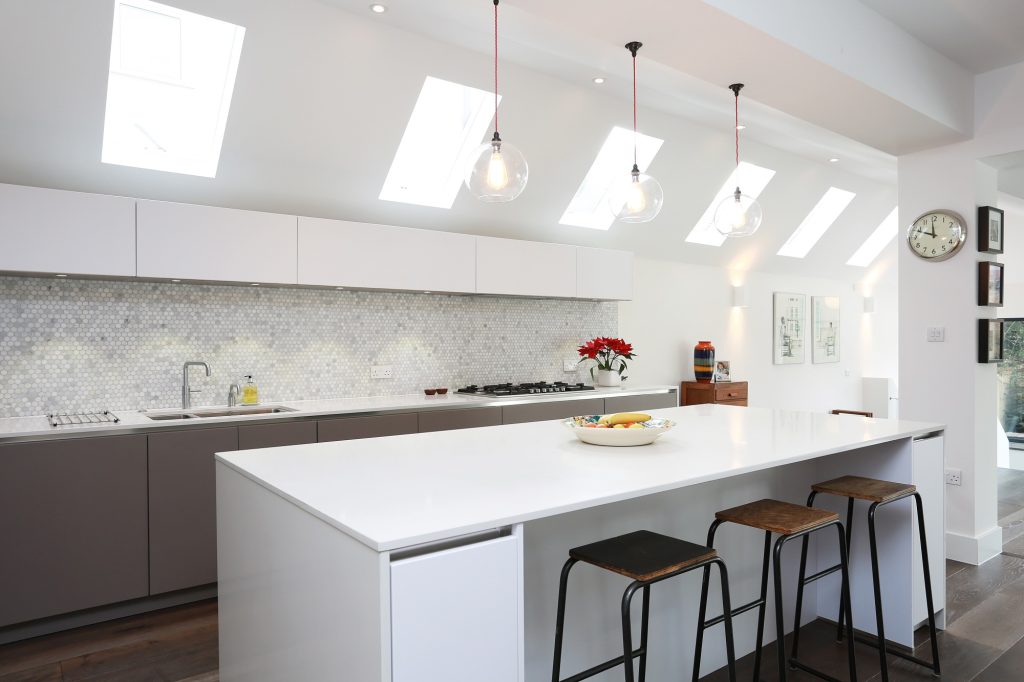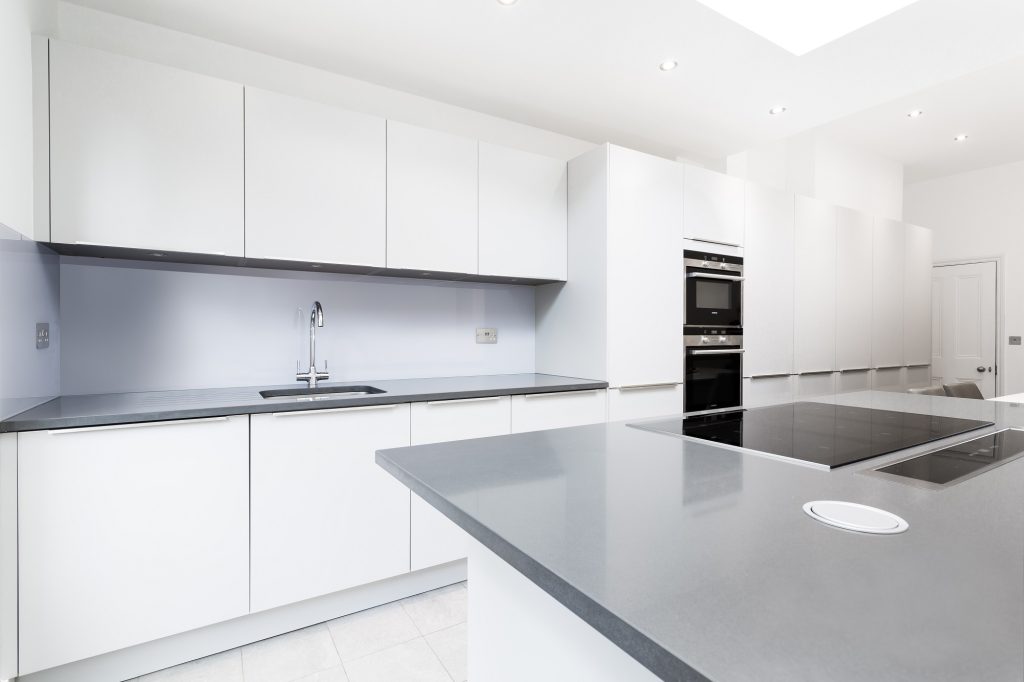 Book A Design Appointment