Quartz Worktop Costs
Quartz, also known as engineered stone, is one of the most popular kitchen and bathroom worktop choices across the UK and is widely available for purchase, yet it's important to note that quartz worktop costs can differ significantly between different worktop suppliers. When you are looking for new kitchen worktops it is always advisable to have a budget in mind and get a quote from more than one supplier. This will allow you to compare both the quality of the product, as well as the quartz worktop prices, while keeping in mind that the cheapest option may not be the best quality option.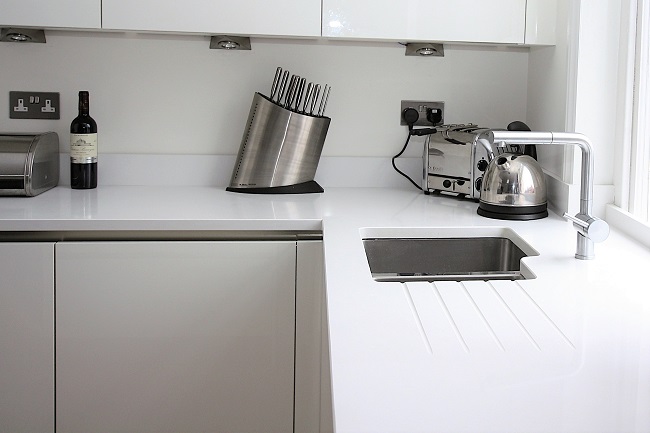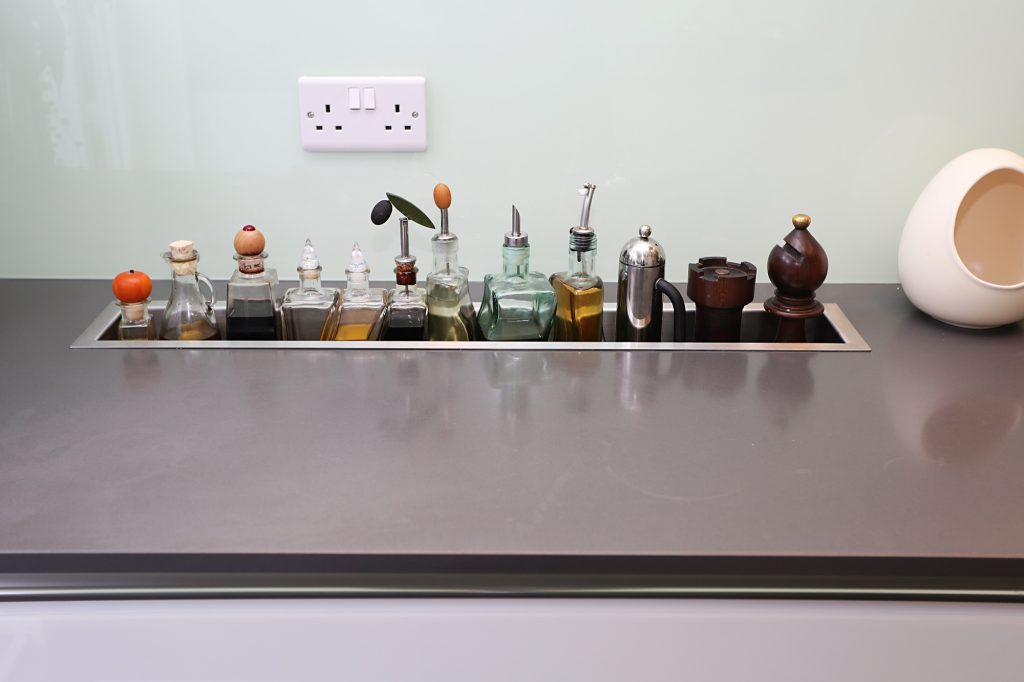 How Much Do Quartz Worktops Cost?
On average, a basic quartz worktop cost can range from £50 to £100 per square foot, with the total cost depending on the size of the surface. Some premium brands and high-end materials can cost as much as £150 per square foot or more. These quartz prices are rough estimates but there are a number of factors which will influence the total cost of your quartz worksurfaces and it is important to recognize this:-
Brand: One of the main factors that influence the cost of quartz worktops is the brand or manufacturer. Some brands are more expensive than others, and the quality and durability of the product can also vary. It is important to research and compare different brands, as well as the reputation of different worktop suppliers before making a decision.
Material Thickness: Another factor that affects the cost of kitchen and bathroom quartz worksurfaces is the thickness of the material. Thicker worktops are more durable and long-lasting, but they also cost more. It's important to consider the thickness of the worktop when making a purchase, as it can have a significant impact on the overall cost.
Size and Shape: The size and shape of the worksurface can also affect the cost. A larger, more complex shape will cost more than a simple, rectangular shape. The cost of cutting and shaping the quartz material will also add to the overall cost.
Location: The location of the worktop supplier or retailer can also influence the cost of quartz worktops. Prices may vary depending on the location of the supplier and the cost of transportation so it's always worth comparing prices from different suppliers to find the best price.
Installation: Finally, the cost of the worktop installation can also have an impact on the overall cost of quartz worktops. As mentioned, the cost of installation can vary depending on the complexity of the project and the location. Some suppliers may include installation in the cost of the worktop, while others may charge extra. It's important to ask for a clear breakdown so you can consider the full cost of installation before committing to buy your quartz.
Are Quartz Kitchen Worktops Worth the Cost?
One of the main advantages of quartz worktops is their durability. They are able to withstand the wear and tear of daily use, making them an ideal, and long-lasting choice for kitchen or bathroom worksurfaces. Another advantage of quartz worktops is they are low maintenance. They do not require regular sealing or polishing like natural stone, which can save time and money in the long run. Instead, quartz worksurfaces can be easily cleaned with soap and water. Quartz worktops also come in a wide range of colours and patterns, making it easy to integrate them within any kitchen or bathroom design.
With such great benefits it is to be expected that quartz worktops can be quite expensive compared to other worksurface materials such as laminate or ceramic, yet quartz is worth the cost if you value durability and low maintenance, and you are willing to pay a premium price for it. Whilst the initial cost of quartz worktops may be higher, they represent better value for a long-lasting worktop, compared with other worksurface materials which might need repaired or replaced further down the line.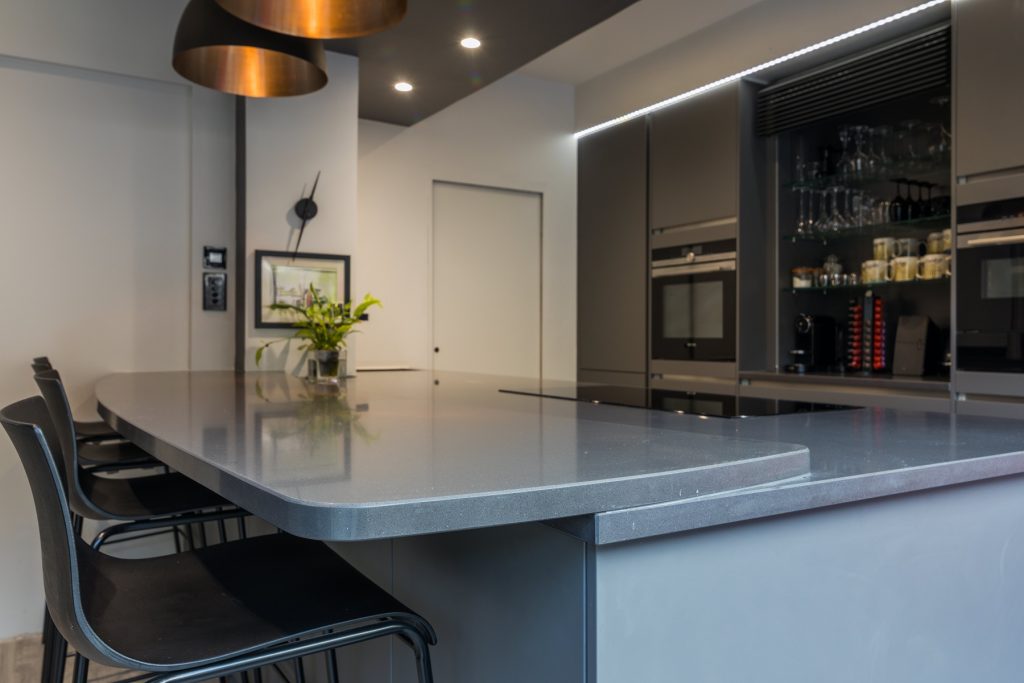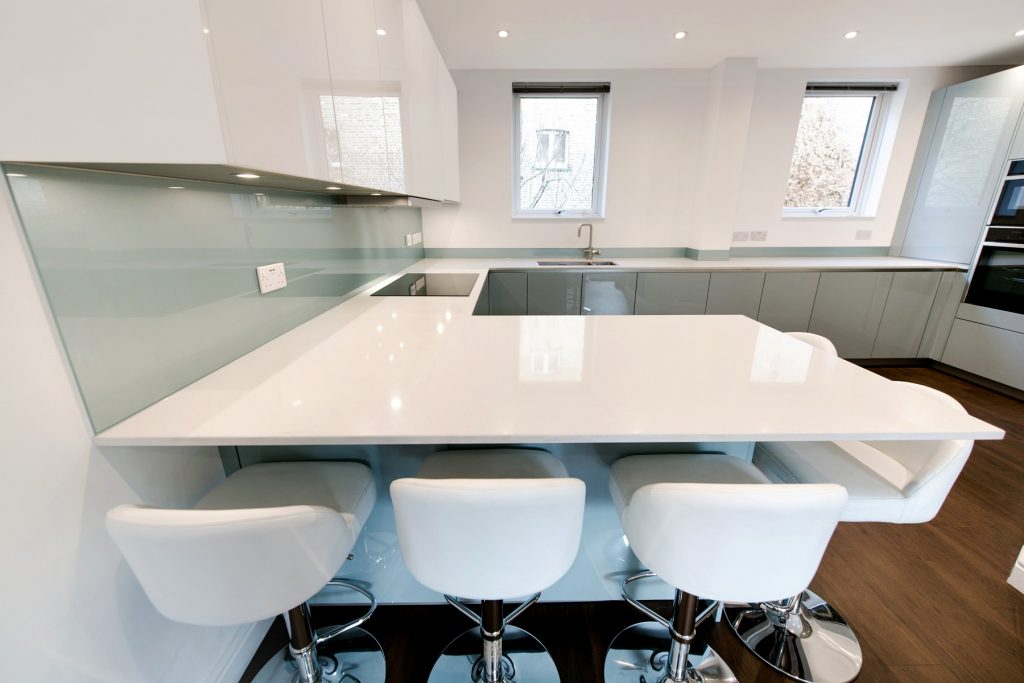 Get a No Obligation Quartz Worktop Quote from Royal Marble in Caerphilly
Ultimately, your choice of worktop material comes down to personal taste and requirement, although it is also important to consider your budget and compare prices before making a final decision. At Royal Marble in Caerphilly our team will always provide professional advice to help you choose your perfect kitchen worksurfaces. In this respect, we are transparent in our processes and pricing, and we will always do our very best to give you the high-quality worktop you want within your available budget.
Book A Design Appointment