Sintered Stone Kitchen and Bathroom Worktops
Sintered stone is a high-quality work surface material that offers many benefits when used as a kitchen or bathroom worktop material in your home. Yet, as with all worktop materials there are a number of variables which will affect the overall cost of your sintered stone. Predominately, the size, thickness, brand of slab, as well as the complexity of the fabrication are all elements that will influence your final worktop cost, and it is important to account for these when choosing your stone.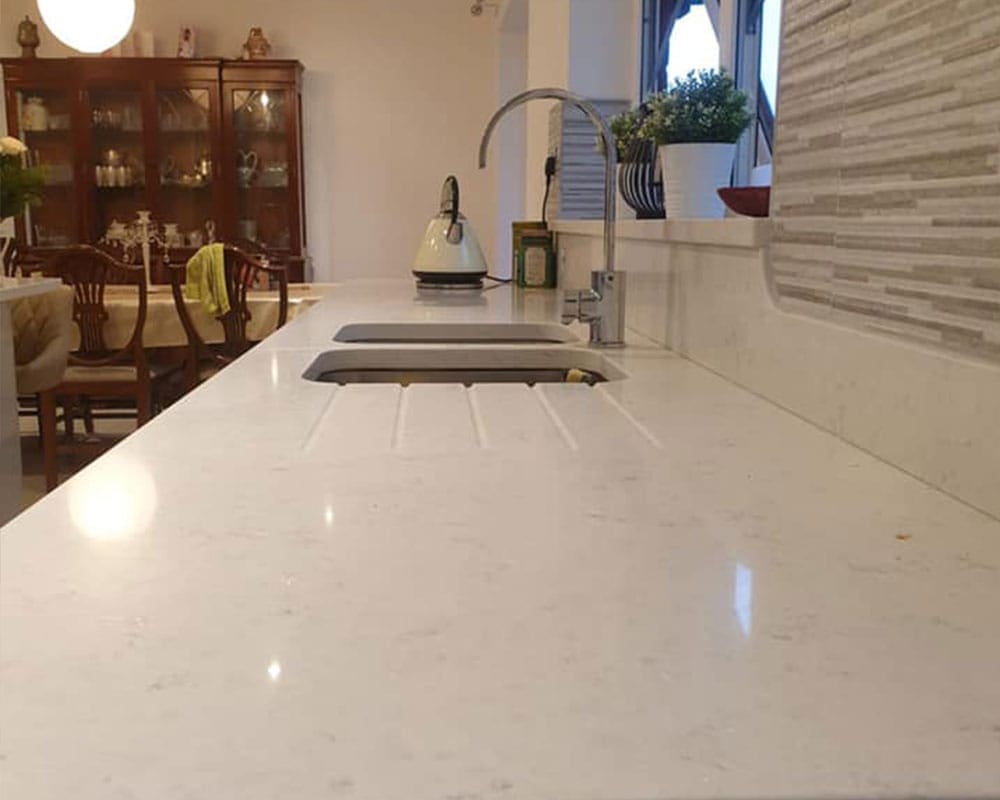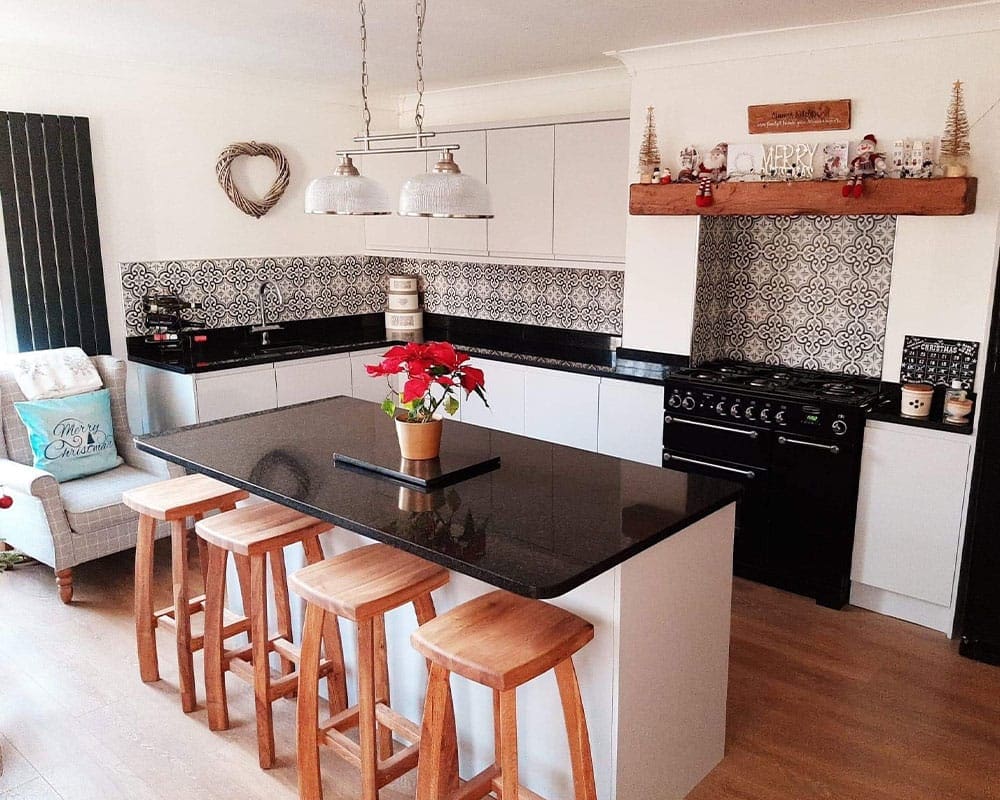 What Is the Average Price of Sintered Stone Worktops?
Generally, the price of sintered stone worktops can range from £250 to £1,000 per square metre, with an average price of around £500 to £600 per square metre. Whilst, these are rough price estimates, the actual price of your sintered stone worktops will depend on your specific requirements and individual supplier. In all cases, its best to consult with a reputable supplier and fabricator, such as ourselves at Royal Marble, who can offer expert advice, and quickly provide a detailed cost breakdown based on your personal project needs.
Factors Affecting the Cost of Sintered Stone
To help you in making an informed decision and consequently the right decision for your worktops, our experts at Royal Marble have outlined the main factors that can affect the pricing of sintered stone worktops. It's important to account for them when budgeting for your new worksurfaces, and with this information you can more accurately project your expected costs: –
Thickness – The first factor that can influence sintered stone prices is the size and thickness of the stone. Sintered stone is typically sold in large slabs, and the price can increase as the size of the slab increases. The thickness of the slab will also affect the price, with thicker slabs being more expensive than thinner ones.
Brand – The brand you choose will also have an impact on how much you end up paying for your sintered stone. Popular and well-known worksurface brands tend to come with a premium for their products, while smaller and lesser-known brands may offer more affordable options.
Location – The location of your worktop supplier can also play a role in the cost of sintered stone. Suppliers located closer to the project, as well as closer to the source of the material, will likely be able to offer more competitive prices than those located further away.
Complexity of the installation – How complex your worktop project is can also greatly affect the price of your sintered stone. For example, if the stone needs to be cut or shaped in a specific way to fit a unique space, this will increase the cost of fabrication and installation.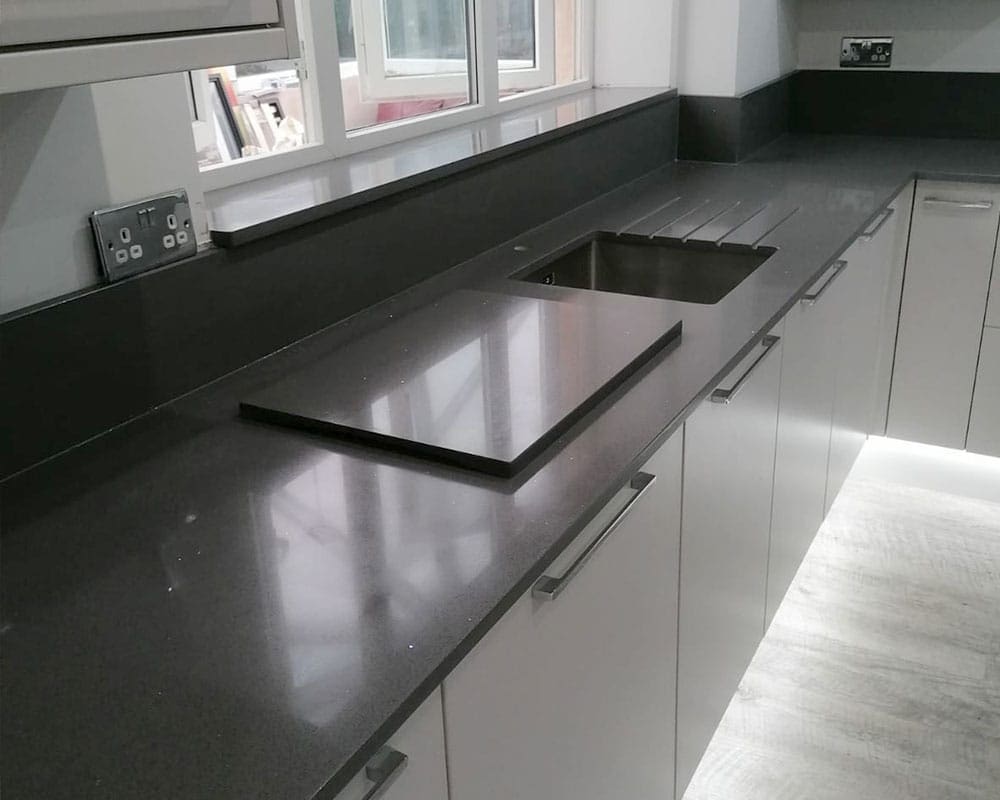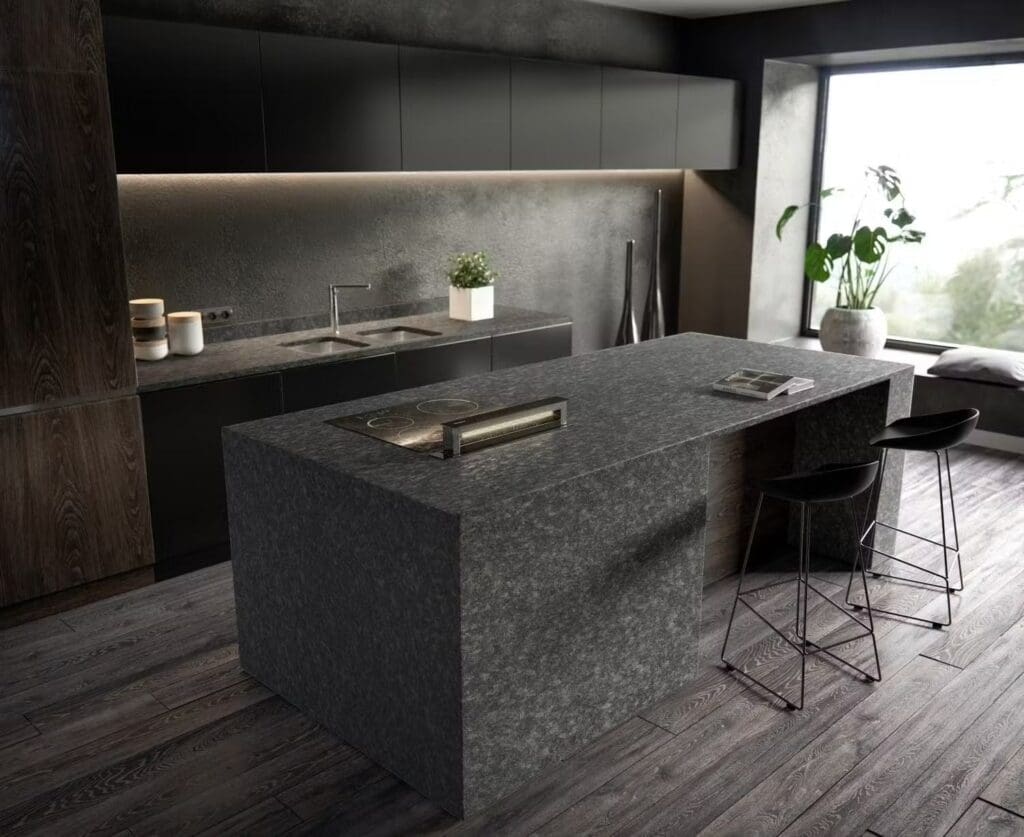 Sintered Stone Costs: A Breakdown
When it comes to working out sintered stone pricing, it's useful to understand each step of the worktop design, manufacture and installation process to get a good grasp of how much the overall product will cost you. The cost of sintered stone can be broken down into three main components: material costs, fabrication costs and installation costs.
Material costs
Material costs include the cost of the actual sintered stone slabs. This price will change depending on the size, thickness and brand of the slab you choose, as well as the location of the supplier. It's important to get a detailed quote from your supplier to understand the exact cost of the materials for your project.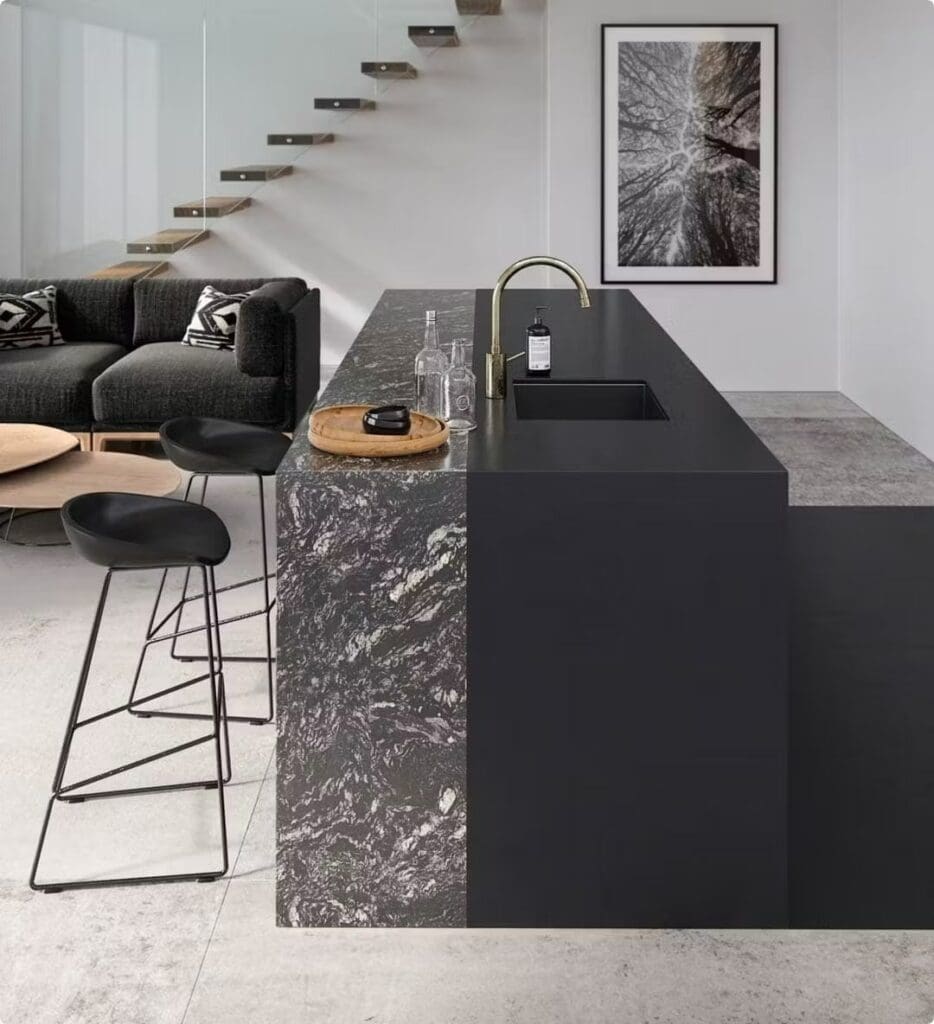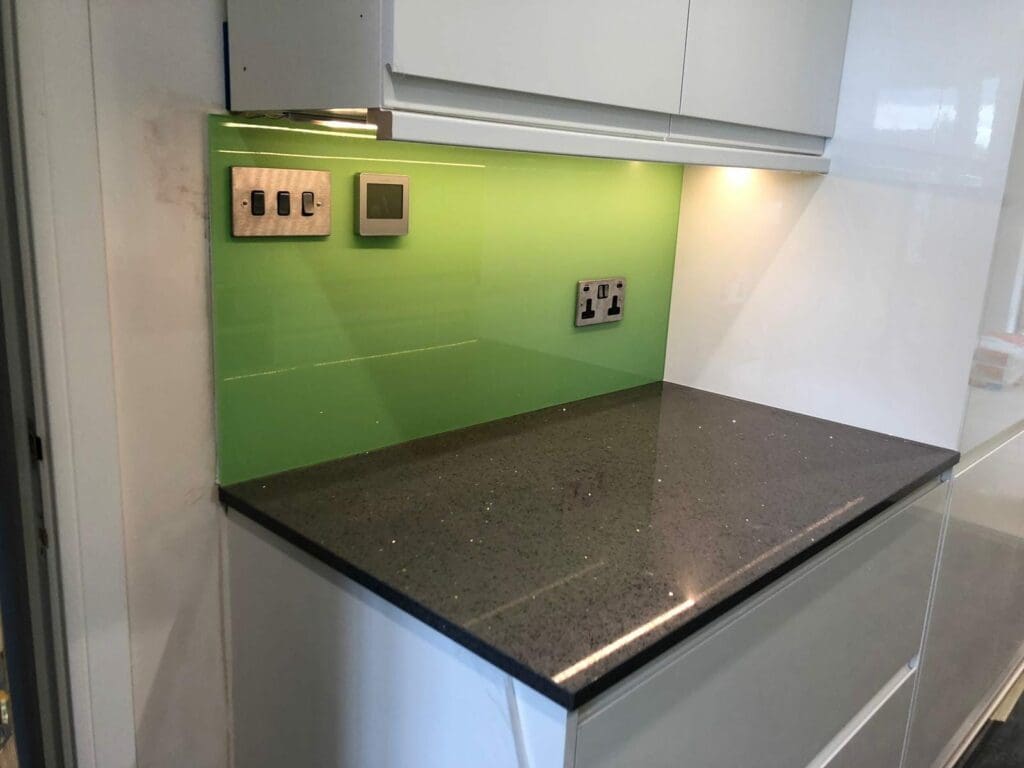 Fabrication Costs
Fabrication costs include the cost of cutting, shaping and polishing the sintered stone slabs to fit your specific space. This cost can vary depending on the complexity of the project and the skills of the fabricator. If you want your worktop to have a unique and specific shape, you can expect this to significantly raise the overall cost. We recommend choosing a reputable fabricator who has experience working with sintered stone to ensure the best quality and value for your money.
Installation costs
Worktop installation costs include the cost of labour and any additional materials needed to install the sintered stone, such as adhesive and grout. Again, this cost can vary depending on the size of the project and the complexity of the installation.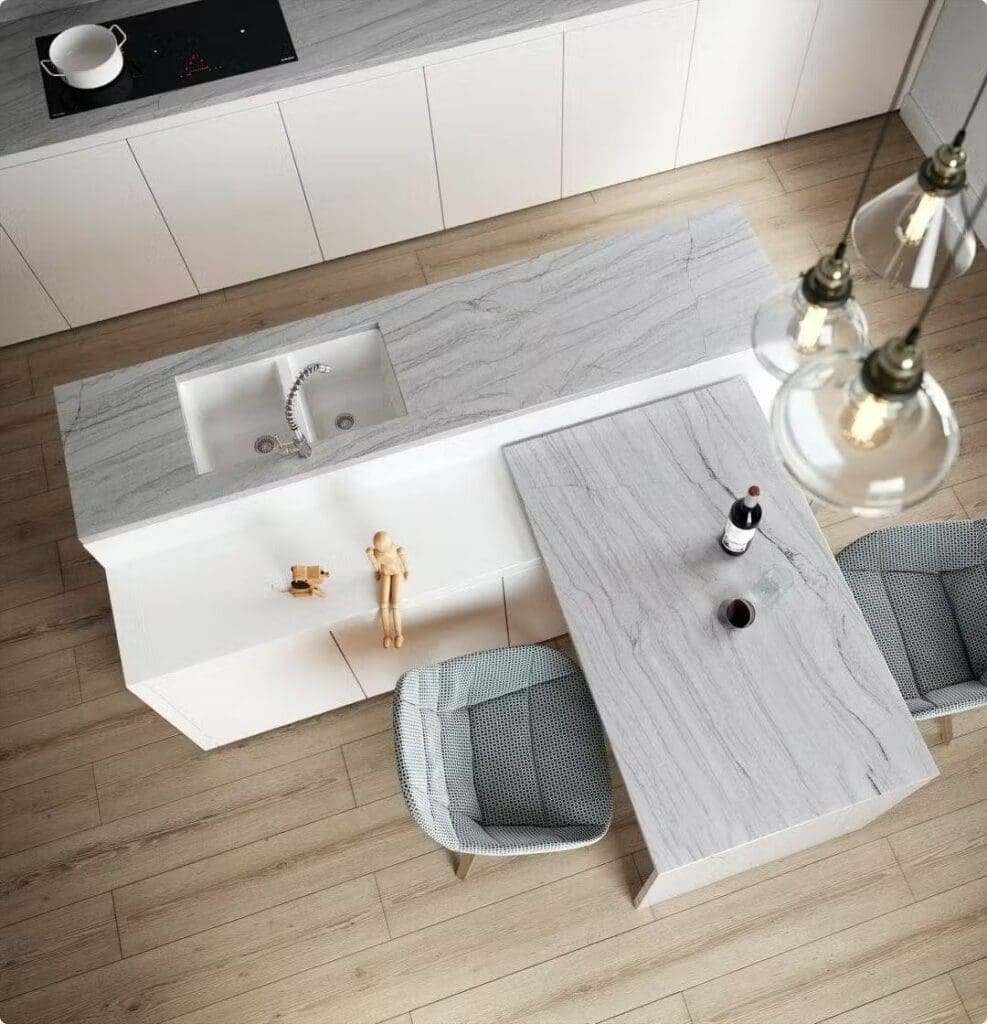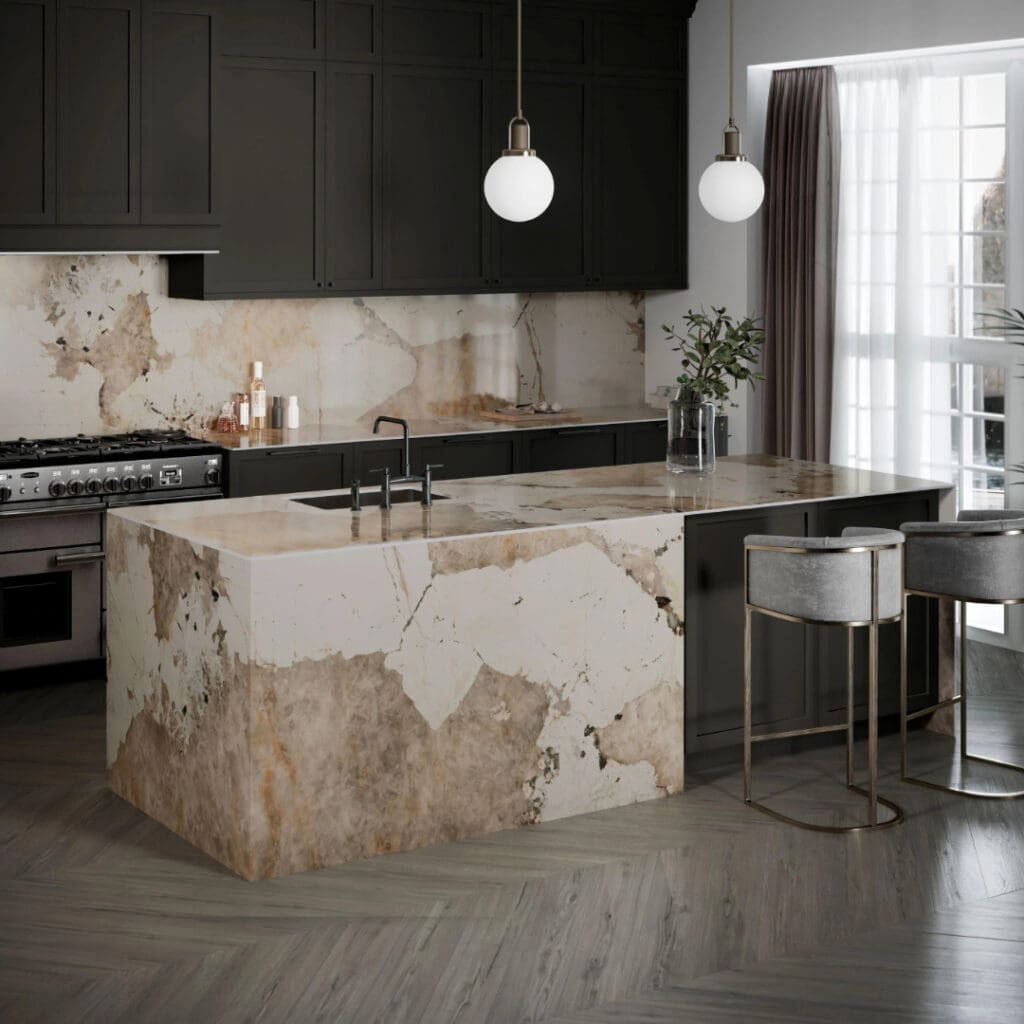 Comparing Sintered Stone Worktop Prices to Other Materials
Sintered stone is a relatively new material compared with others on the market, and it's understandable that people want to compare its prices to other popular materials for worktops and flooring. Quartz, granite and marble are some of the most widely used materials when it comes to worktops, and each material has its own unique features and price points.
Quartz worktop prices versus sintered stone – Quartz is a popular choice due to its durability and low maintenance. Quartz worktop prices can range from moderate to high depending on the brand and quality of the material. Generally, sintered stone work surfaces will have a higher price than quartz, but can offer you more durability and longevity. Granite is another durable and stylish material, with a natural stone look that many people prefer. Prices for granite can also vary depending on the quality and location of the supplier.
Marble worktop prices versus sintered stone – Marble is a luxurious and elegant work surface option that is typically associated with high-end interiors. However, it is a softer material that requires more maintenance than other options. Prices for marble can be quite high, so if you're looking for a durable kitchen worktop, it might be worthwhile to rather invest in sintered stone. When comparing sintered stone prices to other materials, it's important to consider the unique features of each material and how they fit within your budget and design goals.
How to Save Money on Sintered Stone
If you want the benefits that sintered stone can offer, but you're working with a smaller budget, there are ways to save money when it comes to choosing your worktops, and our expert team at Royal Marble will gladly help you with this. Firstly, consider opting for a smaller slab size or thinner thickness. This will still give you a beautiful, durable worktop but reduce the material costs and overall cost of the project. Additionally, choosing a lesser-known sintered stone brand can also help save money without compromising on quality.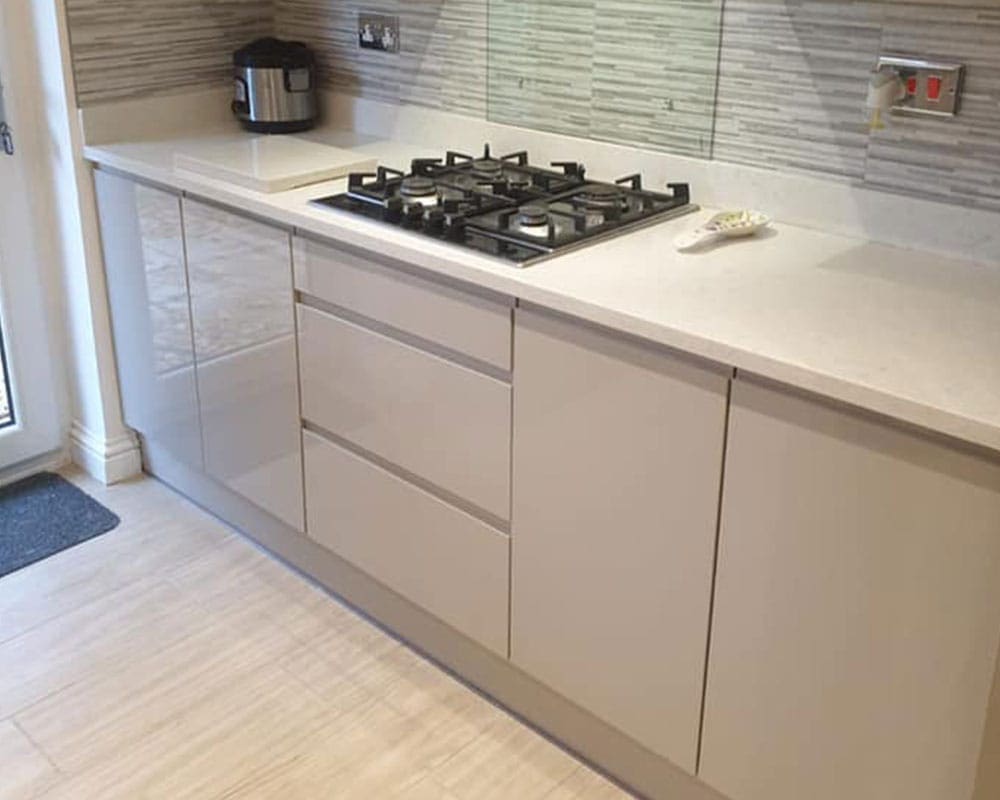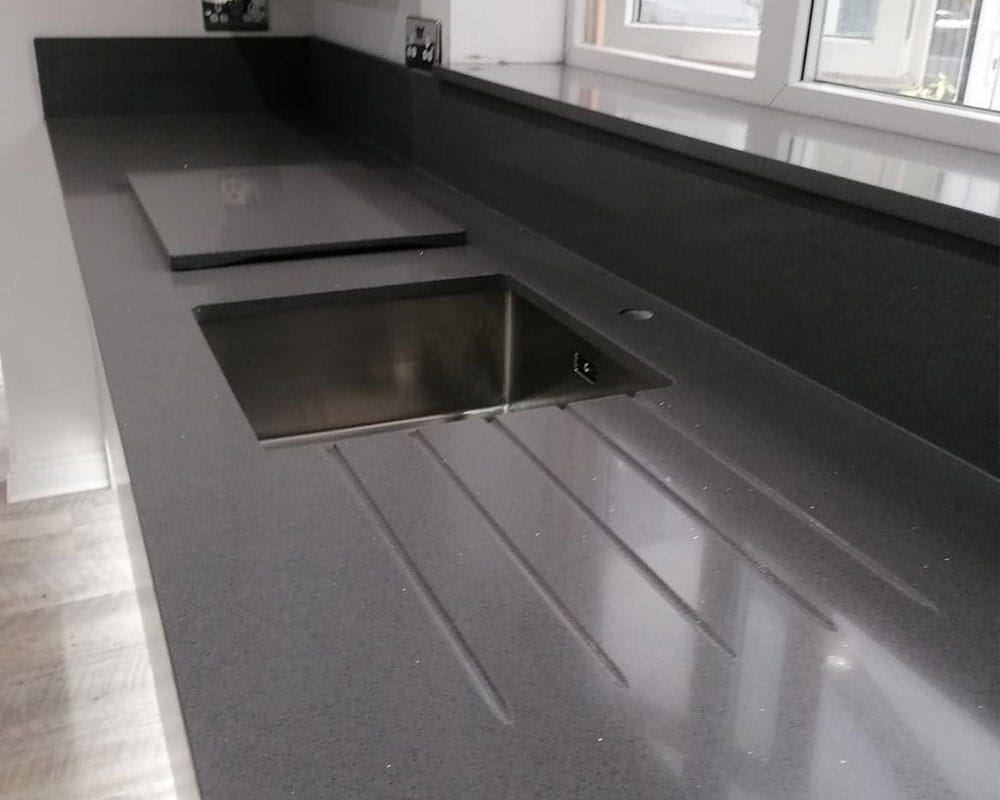 Simple Designs
Another way to save money on sintered stone is to choose a simple design or pattern. Intricate and complex patterns will increase the cost of fabrication and installation, so opting for a more straightforward design can help lower the cost. Also look out for supplier discounts or promotions; many suppliers offer sales or discounts during certain times of the year, so it's worth checking for any current promotions. Finally, work with a reputable and experienced fabricator who can efficiently cut and install the sintered stone slabs. This can help reduce labour costs and ensure the project is completed efficiently and effectively!
Is Sintered Stone the Right Material For Your Worktops?
Sintered stone is a unique and durable material that can elevate the look and feel of any space, and would certainly make a worthwhile investment for your home. While it can be pricier than other work surface materials, understanding the breakdown of sintered stone costs and comparing prices can help you make an informed decision that fits within your budget. Additionally, there are several ways to save money on sintered stone without compromising on quality, such as opting for a smaller slab size or simpler design. By considering all the factors that will impact the pricing of your sintered stone worktops, you can achieve a beautiful and long-lasting finish while staying within your budget!
If you would like to explore our extensive range of luxury sintered stone kitchen and bathroom work surfaces, please contact Royal Marble in Oldbury today!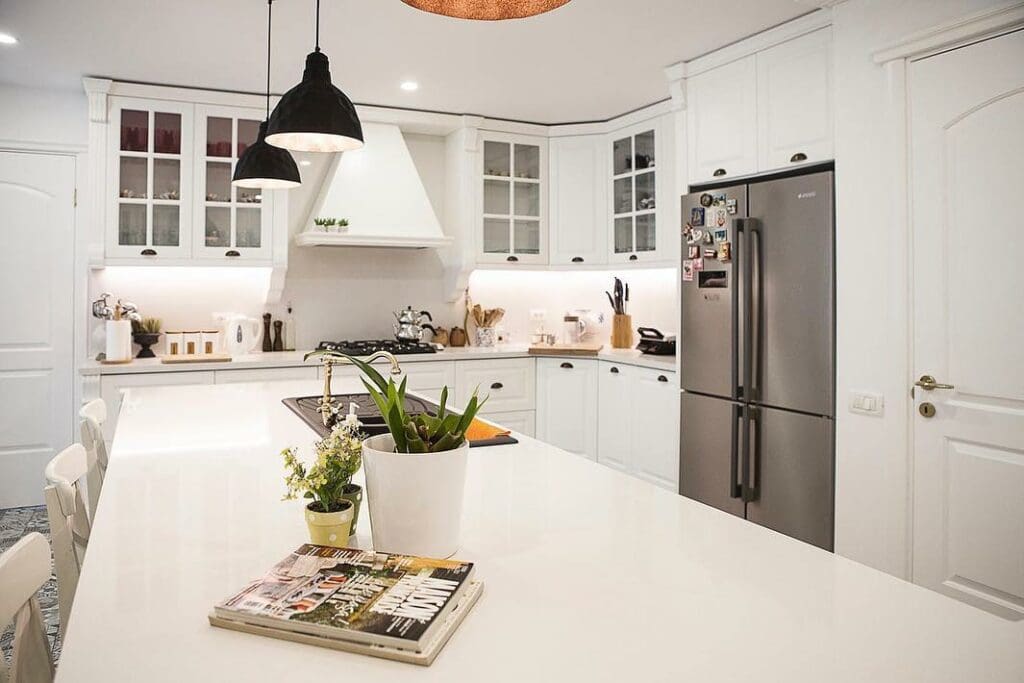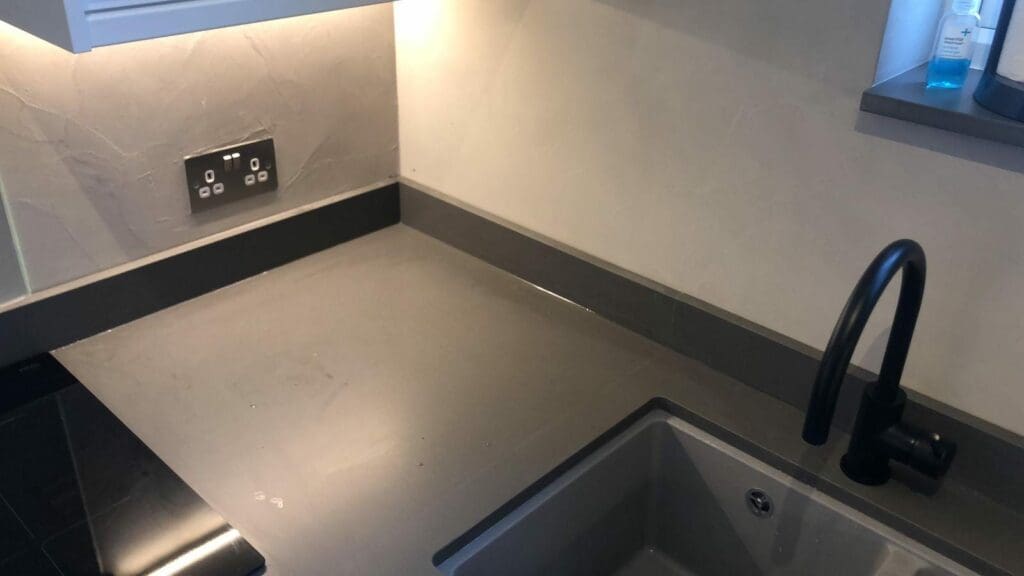 Book A Design Appointment